U.S. Secretary of State Condoleezza Rice cautioned Syria and Iran on Wednesday that they faced further isolation if they tried to scupper U.S.-led attempts to get a ceasefire between Lebanon and Israel.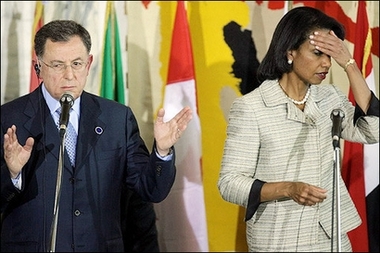 US Secretary of State Condoleezza Rice(R) and Lebanese Prime Minister Fuad Siniora during a press conference at the Italian Foreign Ministry, at the end of an international meeting on the Middle East crisis. Rice denied that Washington had been isolated at the Middle East crisis talks in Rome in its rejection of an immediate ceasefire between Israel and Lebanese Shiite militia Hezbollah.[AFP]
Rice was speaking to reporters flying with her from Rome where U.S., Arab and European ministers agreed to work with the "utmost urgency" to get a ceasefire between Lebanon and Israel but disappointed Beirut and others by not demanding an immediate end to hostilities.
The top U.S. diplomat urged Iran and Syria not to "torpedo" any attempts to stop the fighting between Hizbollah guerrillas in southern Lebanon and Israeli forces in a two-week conflict that has killed more than 400 people in Lebanon and over 50 in Israel.
"This needs to be between Lebanon and Israel," Rice told reporters en route to Malaysia to meet Asian ministers.
She said Syria, which backs Hizbollah, and pulled out of Lebanon last year after decades of occupation, should not be allowed to return to Lebanon and influence events there and neither should Iran, which Rice accused of supporting "extremist elements".
The United States is also at loggerheads with Iran over its nuclear program and Rice has spearheaded an international campaign to sanction Tehran over its nuclear ambitions.
"It is therefore very important that a message go to Iran that they will deepen their isolation if they become an enemy of peace for the Lebanese people and for the Israeli people. I think there are plenty of people to send that message," Rice said.
In Rome, U.N. Secretary-General Kofi Annan promised the United Nations would get involved in dealing with Iran and Syria and Rice said she hoped he could get the two U.S. foes to behave responsibly.
Two senior U.S. officials from Rice's delegation have returned to the Middle East to try to negotiate with Lebanon and Israel over conditions for a ceasefire and Rice left open the possibility she could return to the region on her way home from Asia.
"I'm flexible about what I should do. Stay tuned," she said when asked whether she planned to return to the Middle East this weekend. "I would expect to be in the region many more times."
Rice said she was pleased with the outcome of the Rome meeting and strongly rejected suggestions the United States was alone in not seeking an immediate ceasefire.
"It was not all countries calling for an immediate ceasefire and the United States saying 'no, we need to have an urgent and sustainable ceasefire'," said Rice, who declined to name which countries had supported her view.
The United States fought hard and won language in the final communique that excluded a call for an "immediate ceasefire", arguing that conditions needed to be right otherwise such a truce would quickly break down.
"The fields of the Middle East are littered with broken ceasefires and every time there is a broken ceasefire there is destruction and misery," Rice said.
The Rome conference agreed on an international force to secure the border area between Lebanon and Israel, and Rice said that while this force would not enter "under hostile fire" it should have a very robust mandate.
The United Nations is holding a troop contribution meeting over the next week. Rice reiterated Washington did not plan to offer troops for such a mission.