China strongly condemned an Israeli air strike in Lebanon that killed a Chinese United Nations observer and summoned Israel's ambassador in Beijing to demand an apology.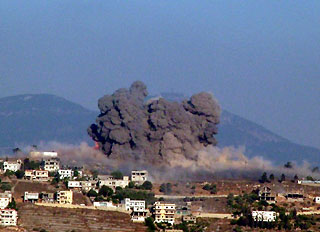 Smoke rises from Khiam village after being hit by Israeli air strikes, in southern Lebanon, July 25, 2006. [Reuters]
In its first reaction to the death of the Chinese national and up to three other UN workers in Tuesday's strike on the hilltop town of Khiam, China also called for an immediate ceasefire in the conflict by all sides.
"The Chinese side is deeply shocked and strongly condemns this," foreign ministry spokesman Liu Jianchao said in a statement, adding the strike had killed "many innocent victims".
"The Chinese side demands that all sides in the confrontation, especially Israel, take all measures to ensure the safety of UN peacekeepers."
Chinese observer Du Zhaoyu was killed Tuesday night by an Israeli bomb and his body had been recovered from the rubble of the bombed UN observer base in the hilltop town of Khiam, Xinhua News Agency reported.
Liu said Chinese assistant foreign minister Zhai Jun had called in Israeli ambassador Yehoyada Haim on Wednesday morning for an "emergency" meeting over Tuesday's incident.
"The Chinese side... demands that the Israeli side open a comprehensive investigation, apologize to the Chinese side and the victim's family and help the Chinese side in carrying out the mourning activities," Haim was told, according to Liu.
China said an immediate end to hostilities was necessary.
"We urge all parties to immediately implement a ceasefire and quickly return to the path of negotiation," Liu said.
"China will make more diplomatic efforts with the international community to push forward the resumption of peace and stability in the Middle East region."
An Israeli air strike destroyed a base of the UN observer force on the border in southern Lebanon on Tuesday night, killing four UN observers, including Du Zhaoyu.
The other three dead UN Observers were from Finland, Austria and Canada, the UNIFIL sources confirmed.

The bomb made a direct hit on the building and shelter of the observer post in the town of Khiyam near the eastern end of the border with Israel, said Milos Struger, spokesman for United Nations Interim Force in Lebanon (UNIFIL).