Japan and the US on Thursday announced a plan to deploy advanced Patriot interceptor missiles at American bases on southern Okinawa island, and a top government spokesman called for more pressure on North Korea to stop its missile tests.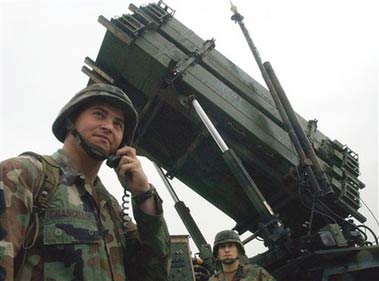 A US Army soldier communicates using his radio near the Patriot Advanced Capability-3, the latest generation of Patriot interceptor missiles, at a Korean military air base in Suwon, south of Seoul, in this Thursday, Sept. 18, 2003, file photo. Japan and the United States announced a plan to deploy advanced Patriot interceptor missiles at two US bases southern Japan by the year's end, a news report said Thursday. [AP Photo]
The US government will have Patriot Advanced Capability-3 missiles operational by the end of the year and post 600 more troops on Okinawa, the Foreign Ministry said. Officials on the island 1,000 miles southwest of Tokyo questioned the need for the missiles.
Japan stressed the deployment would be purely for defense purposes.
"In view of the development, deployment and proliferation of ballistic missiles in the region, and the clear and present threats such as the recent missile launches by North Korea ... Japan will continue to do its utmost to build its ballistic missile defense capabilities in close cooperation with the US," the statement said.
Protesters angered by the announcement stormed a local government building in Okinawa, where residents have expressed a strong desire for a large reduction in US forces. The US already has about 50,000 troops in Japan under a mutual security pact.
Defense Facilities Administration Agency chief Iwao Kitahara called on Okinawa Gov. Keiichi Inamine to support the plan, but the governor denounced it, saying no threat required the move.
"The planned deployment is extremely regrettable, when there is no activity that requires one," Inamine said.
The PAC-3 are designed to intercept ballistic missiles, cruise missiles or aircraft.
The US also has Patriots in South Korea. The US military in 2004 completed deployment of PAC-3 missile batteries at Gwangju Air Base, about 150 miles south of Seoul. 
Details on the location and timetable of the deployment announced last month came as Japan's top government spokesman said North Korea must be pressed so it has no choice but to stop its missile tests and return to nuclear talks.
"North Korea must be made to understand that if it does not alter its stance, there will be bad consequences," Chief Cabinet Secretary Shinzo Abe said at a privately sponsored speech in Tokyo.
North Korea test-fired seven missiles July 5, including a Taepodong-2 believed capable of hitting parts of the US. The missiles fell harmlessly into the sea.
Assistant Secretary of State Chris Hill, the top US envoy to the stalled disarmament talks, said the United States wants to meet with South Korea, Japan, Russia and China next week to figure out a way to persuade North Korea to return to negotiations.
Hill said in Washington the goal was to include North Korea in talks on the sidelines of next week's annual meeting of Association of Southeast Asian Nations foreign ministers in Malaysia. But, he added, "the North Koreans don't seem to want to go to six-party meetings right now."
The Japanese government spokesman said Tokyo was open to informal six-country talks in Malaysia next week.
Pyongyang has refused to return to the six-country nuclear negotiations to protest US-imposed financial restrictions over alleged counterfeiting and money laundering activities.
The UN Security Council has passed a resolution criticizing North Korea's missile tests and banning all UN member states from trading with Pyongyang in technology related to missiles or weapons of mass destruction.
Japan had pushed for a resolution backed by the threat of military force, but backed down when China warned a veto amid Beijing's and Seoul's accusations that Tokyo was overreacting.