A tsunami crashed into beach resorts and fishing villages on Java island Monday, killing more than 300 people and leaving more than 160 missing after bulletins failed to reach the region because no warning system was in place.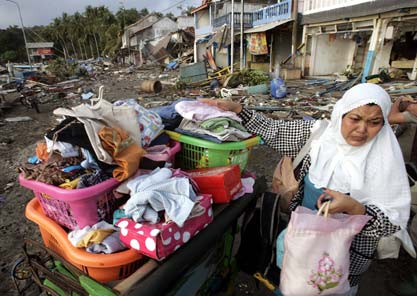 A woman cries as she gathers her belongings in Pangandaran, Indonesia July 18, 2006. A tsunami triggered by a strong undersea earthquake off the coast of Indonesia's Java island on Monday swept away buildings and damaged hundreds of fishing boats, officials and witnesses said. [Reuters]
The Java coastal area was spared by the devastating Asian tsunami of 2004, but many residents recognized the danger when they saw the sea recede.
At least 23,000 people fled their homes, either because they were destroyed or in fear of another tsunami, Dudi Junaidi, an official at an emergency coordination post in the worst-hit area of Pangandaran on Java's southern coast, said Tuesday.
Frantic tourists and villagers shouted " Tsunami! Tsunami!" as the wave more than 6 feet high approached. Some climbed trees or fled to higher ground to escape while others crowded into inland mosques to pray.
"We saw a big wall of black water. I ran with my son in my arms when I looked back, the waves were at our house, they destroyed our house," said Ita Anita, who was on the beach with her 11-month-old child and other relatives. "The water knocked me down, my son slipped out of my hands and was taken by the water."
Anita, 20, and her husband live 30 feet from the beach in Pangandaran, a resort popular with tourists. Also on the beach were her son, mother, sister, brother, nephews. All except her mother are missing.
She said a series of large waves as tall as coconut trees came and then the water began to recede.
"When the wave receded, there was total panic. Everybody was looking for everybody," Anita said from her hospital bed at the Pangandaran medical clinic. She said she was swept inland by the wave into a rice paddy, tossed around and dragged across asphalt before she managed to climb to safety on the roof of a house.