A tsunami crashed into beach resorts and fishing villages on Java island, killing at least 226 people, leaving scores missing and sending thousands climbing trees or fleeing to higher ground to escape.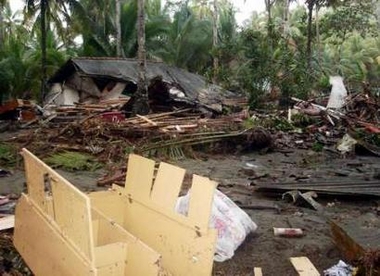 A house lies in ruins after a tsunami swept past a beach in the Indonesian city of Pangandaran July 17, 2006. The tsunami, triggered by a strong undersea earthquake off the coast of Indonesia's Java island on Monday, killed 226 people, swept away buildings and damaged hundreds of fishing boats, officials and witnesses said. Picture taken July 17, 2006. [Reuters]
As darkness fell at least 30 bodies were piled up at one clinic near the coast, including several children covered in white sheets, and thousands of terrified residents set up camp in the hills overlooking the sea.
Regional agencies issued bulletins Monday saying a 7.7-magnitude earthquake that struck 240 kilometers (150 miles) off Indonesia's southern coast was strong enough to create a tsunami. But they did not reach victims on Java, which was spared by the devastating Asian tsunami of 2004, because the island has no warning system in place.
The hardest-hit area appeared to be Pangandaran, an idyllic beach resort on the coast popular with local and foreign tourists. People shouted "Tsunami! Tsunami!" as the more than two-meter-high (two-yard-high) wave approached, some clinging to tree branches or crowding into inland mosques to pray, witnesses said.
Boats crashed to shore, some slamming into hotels, and houses and restaurants were flattened along a 180-kilometer (110-mile) stretch of the densely populated island's southern coast.
Jan Boeken, from Antwerp, Belgium, said he was sitting at a bar when his waiter started screaming.
"I looked back at the beach and saw a big wall of thundering black water coming toward us," said the 53-year-old, who escaped with minor cuts to the head and knees. "I ran, but I got trapped in the kitchen, I couldn't get out. I got hit in the body by debris and my lungs filled with water."
The Indonesian Red Cross, police and district officials said at least 82 people were killed and 77 others were unaccounted for, most in Pangandaran and nearby Cilacap. El-Shinta radio reported four other deaths.
"We are still evacuating areas and cross-checking data," Red Cross official Arifin Muhadi told The Associated Press.
Most of the victims were believed to be Indonesians, but at least one Swedish tourist was being treated for injuries at a hospital near Pangandaran and his two sons, 5 and 10, were missing, said Jan Janonius, a Swedish Foreign Ministry spokesman.
A witness told el-Shinta he saw the ocean withdraw 500 meters (1,500 feet) from the beach a half-hour before the powerful wave smashed ashore, a typical phenomenon before a tsunami.
"I could see fish jumping around on the ocean floor," Miswan said. "Later I saw a wave like a black wall."
Local media reports said the wave came as far 300 meters (900 feet) inland in some places. Buildings sit close to the beach in Pangandaran.
Pedi Mulyadi, a 43-year-old food vendor, said he was waiting on the beach for customers when the wave struck, killing his wife, Ratini, 33. The pair were clinging to one another when they were swallowed by the torrent of water and pulled 300 feet inland, he said.
"Then we were hit, I think by a piece of wood," Mulyadi said. "When the water finally pulled away, she was dead. Oh my God, my wife is gone, just like that."
Roads were blocked and power cut to much of the area.
"All the houses are destroyed along the beach," one woman, Teti, told el-Shinta radio from Pangandaran. "Small hotels are destroyed and at least one restaurant was washed away."
Indonesia has installed a warning system across much of Sumatra island but not on Java. The government has been planning to extend the warning system there by 2007.
Java was hit seven weeks ago by a 5.9-magnitude earthquake that killed more than 5,800 people, but was spared by the 2004 tsunami that killed 216,000 people, nearly half of them in Indonesia's Aceh province. The May earthquake did not affect the part of the island hit by Monday's tsunami, which was spawned by a quake that struck 240 kilometers (150 miles) beneath the Indian Ocean.
The quake struck at 3:24 p.m., causing tall buildings to sway hundreds of kilometers (miles) away in the capital, Jakarta. The strength of the temblor was revised upward from magnitude 7.1 after a review by a seismologist, the U.S. Geological Survey said. The quake was followed by a series of powerful aftershocks.
After the quake, the Pacific Tsunami Warning Center and Japan's Meteorological Agency issued warnings saying there could be a tsunami in the Indian Ocean. The tsunami struck Java about an hour later and its effects could be felt as far as Bali island and near Australia's Coco Islands.
Indonesia is on the so-called Pacific "Ring of Fire," an arc of volcanoes and fault lines encircling the Pacific