N. Korea vows to continue missile tests
North Korea on Thursday publicly acknowledged for the first time that it had tested missiles and vowed to continue launching them, threatening to "take stronger physical actions" against opponents of the tests.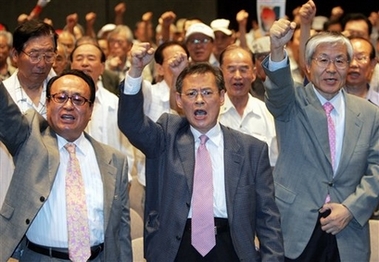 South Koreans shout a slogan during an anti-North Korea rally against North Korea's missile launches in Seoul, Thursday, July 6, 2006. South Korea and the United States will hold talks on the North Korean nuclear issue during a visit later this month to Seoul by U.S. Secretary of State Condoleeza Rice, the foreign minister said Thursday. [AP]
The North Korean Foreign Ministry issued its statement through the state-run Korean Central News Agency one day after the country test-fired at least seven missiles, including an abortive launch of a long-range Taepodong-2. All the missiles apparently fell harmlessly into the Sea of Japan, but the launches drew international condemnation.
Japan, backed by the U.S. and Britain, circulated a U.N. Security Council resolution in New York on Wednesday that would ban any country from transferring funds, material and technology that could be used in North Korea's missile and weapons of mass destruction programs.
But North Korea said the missile launches were part of its military's regular drills to strengthen self-defense, and it had a legal right to carry them out.
"Our military will continue with missile launch drills in the future as part of efforts to strengthen self-defense deterrent. If anyone intends to dispute or add pressure about this, we will have to take stronger physical actions in other forms," the statement said, without elaborating.
Major South Korean newspapers reported Thursday that North Korea has three or four more missiles on launch pads ready to be fired. The North also barred people from sailing into some areas off the coast until July 11 in a possible sign of preparations for additional launches, said Chosun Ilbo, one of South Korea's largest dailies.
"There is a possibility that North Korea will fire additional missiles," South Korean Defense Minister Yoon Kwang-ung was quoted by the Yonhap news agency as telling lawmakers, citing images of equipment going in and out of the launch sites.
The missiles are either short- or medium-range, Chosun Ilbo reported. Japan said there were no immediate signs of another attempt to launch a long-range Taepodong-2 missile.
Bush said Wednesday that the failure of North Korea's long-range missile test does not lessen the need to push the communist regime to give up its nuclear weapons program.