SEOUL, South Korea - North Korea on Thursday acknowledged that it had test-fired missiles and vowed to launch more, threatening to take even stronger action if opponents of the tests put pressure on the country.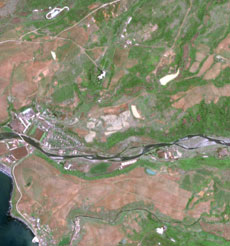 A satellite image from DigitalGlobe collected on June 9, 2006 shows Musudan-ri in No Dong, North Korea, the area where a missile facility is located. Japanese Foreign Minister Taro Aso said on July 5, 2006 that North Korea launched five missiles including a long-range Taepodong 2 missile. [Reuters/DigitalGlobe]
The further show of defiance by Pyongyang came amid intense diplomatic jockeying by the United States and its allies to prod the U.N. Security Council to take stern action against the North's seven missile tests on Wednesday.
The North Korean Foreign Ministry, in a statement made through the state-run Korean Central News Agency, insisted that the country had the right to test its missiles and argued the weapons were needed for defense.
"The successful missile launches were part of our military's regular military drills to strengthen self defense," said the statement. "As a sovereign country, this is our legal right and we are not bound by any international law or bilateral or multilateral agreements."
The ministry also appeared to confirm mounting fears in South Korea that the North was preparing for further launches. South Korean officials said intelligence showed continued activity at Northern missile sites.
It said North Korea remains committed to a denuclearised peninsula and the tests conducted on Wednesday were not related to stalled six-party talks aimed at ending its nuclear weapons programmes.
Pyongyang also vowed to retaliate against efforts to interfere with the launches, but it did not elaborate.
"Our military will continue with missile launch drills in the future as part of efforts to strengthen self-defense deterrent. If anyone intends to dispute or add pressure about this, we will have to take stronger physical actions in other forms," the statement said.
At the same time, splits emerged among the critics of the North's testing program.
At the United Nations in New York, China and Russia said only diplomacy could halt North Korea's nuclear and rocket development programs.
In a bid to coordinate strategy, U.S. President George W. Bush held separate telephone talks Thursday morning with the leaders of Japan and South Korea - his two top allies in the region - to consult on the North, but with different results.
Japanese officials said Tokyo and Washington agreed to push for sanctions against Pyongyang, while South Korean officials said they agreed only to cooperate in diplomacy, with no mention of punishing North Korea.
The missiles, all of which apparently fell harmlessly into the sea east of the Korean Peninsula on Wednesday, provoked international concerns, the convening of an emergency meeting of the U.N. Security Council and calls in Japan for economic sanctions.
South Korean media reported Thursday that North Korea has three or four more missiles on launch pads and ready for firing, while the Japanese government said there were no immediate signs of long-range missile launch.