Blair enlists Annan, Geldof to chase G8 aid
(Reuters)
Updated: 2006-06-26 09:06
British Prime Minister Tony Blair has enlisted rock star Bob Geldof and U.N. Secretary General Kofi Annan to help keep track of how wealthy countries live up to their aid commitments to Africa.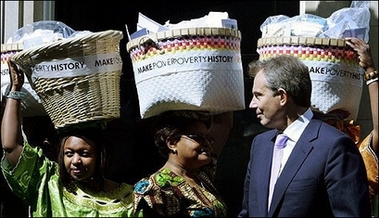 Prime Minister Tony Blair stands alongside African women outside No.10 Downing Street in May 2005 to promote the "Make Poverty History" campaign. Blair will on June 26 announce plans for the launch of an independent group that will monitor financial commitments made to the poorest nations.[AFP/File]
Keeping track of pledges by countries known as the Group of Eight is a "full-time job" and while some pledges are on track, more needs to be done, Blair will say in a speech on Monday in London.
Blair is setting up an independent Africa Panel, to be chaired by Annan, to evaluate progress on promises made by the G8 at a summit in Gleneagles, Scotland, last July.
G8 leaders promised an extra $50 billion a year in total aid for all developing countries by 2010, including an expected $25 billion for Africa.
Blair also enlisted Geldof, organizer of a series of Live 8 concerts last year, and Nigerian President Olusegun Obasanjo as members of the panel, expected to be set up within weeks.
Microsoft co-founder Bill Gates has agreed to help fund the panel and secretariat, according to excerpts of Blair's speech.
"We need to deliver the comprehensive package agreed at Gleneagles," he will say. "Ensuring that happens is a full-time job."
The panel will produce an annual report for the G8 and the United Nations.
Plans to cancel 100 percent of the debt of many poor states are on track and have allowed Zambia to provide free health care for people living in rural areas, Blair will say.