VIENNA, Austria - Six world powers agreed Thursday on a "significant" package of incentives to persuade Iran to halt its uranium enrichment program, British Foreign Secretary Margaret Becket said.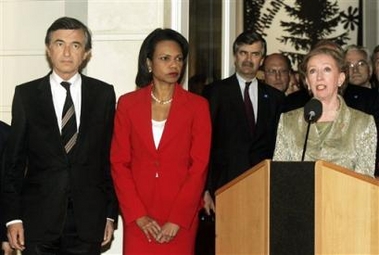 French Foreign Minister Philippe Douste-Blazy and U.S. Secretary of State Condoleezza Rice listen to Britain's Foreign Minister Margaret Beckett, from left, during a press briefing after a meeting at the British Residence in Vienna, Thursday June 1, 2006. Six world powers meeting to discuss the crisis over Iran's nuclear program agreed Thursday on a 'significant' package of incentives to convince Tehran to halt uranium enrichment, Beckett said. [AP]


"I am pleased to say we have agreed (on) a set of far-reaching proposals," she said. "We believe they offer Iran the chance to reach a negotiated agreement based on cooperation."

She added that "if Iran agrees not to engage in negotiations, further steps will have to be taken."

Additionally, German Foreign Minister Frank-Walter Steinmeier said Russia and China were considering joining the United States and three key European countries in any nuclear talks with Iran if there was a basis for negotiations.

After a meeting by France, Britain, Germany, the United States, Russia and China, Becket said "we urge Iran to take the positive path" and promised to suspend Security Council action against Tehran if it agreed to halt enrichment.

Secretary of State Condoleezza Rice met with the foreign ministers from the European nations that led stalled talks with Iran last year, and also with representatives of Russia and China. Russian and Chinese support is crucial to attach the threat of United Nations sanctions or other punishment to the package of incentives.

At the White House, President Bush warned that the confrontation would end up at the U.N. Security Council if Iran continues to enrich uranium.

"If they continue their obstinance, if they continue to say to the world `We really don't care what your opinion is,' then the world is going to act in concert," Bush said after meeting with his Cabinet at the White House.

Bush said he got a "positive response" in a telephone conversation on Tuesday with Russian President Vladimir Putin, adding, "We expect Russia to participate in the United Nations Security Council. We'll see whether or not they agree to do that."

Bush also spoke about Iran on Thursday with Chinese President Hu Jintao. He said little about that conversation, saying, "They understood our strategy." The U.S. would need cooperation by Russia and China, Security Council members, before that body could act.