Medicines, rice, water and tarps were delivered to Indonesia's earthquake disaster zone Wednesday to help about 650,000 displaced people, but many said the international aid was taking too long to get there.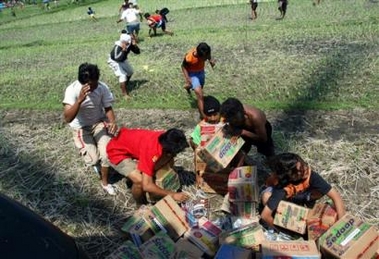 Earthquake survivors struggle to get food aid dropped from an Indonesian Air Force helicopter in Bantul, Indonesia, Wednesday, May 31, 2006. Relief efforts in a large swathe of Indonesia's earthquake disaster zone picked up pace Wednesday, but for many of the estimated 647,000 people displaced aid was not arriving quick enough and health care remained patchy. [AP]
Thousands of women and children lined roads clogged with relief vehicles and curious onlookers, asking motorists for money so they could buy food. Some stood next to a banner that read: "Don't just look. Help."
Saturday's 6.3-magnitude quake on Java island killed 6,234 people and injured more than 30,000, the Social Affairs Ministry said.
The main hospital in hardest-hit Bantul district remained overwhelmed, with patients cramming corridors or sleeping on pieces of cardboard in the parking lot, and doctors complained about a lack of supplies.
The United Nations said the crisis appeared to be easing with the arrival of aid workers from more than 20 countries, and Indonesia's president said he had enough confidence in the relief efforts to return to the capital, Jakarta.
"Certainly, a lot more needs to be done," Susilo Bambang Yudhoyono said.
But he said roads had been cleared, the main airport's runway repaired and reopened, and electricity restored in some areas.
The temblor that struck soon after dawn reduced more than 135,000 houses into piles of bricks, tiles and wood in less than a minute, displacing some 647,000 people, said Bambang Priyohadi, a provincial official.
Nearly a third of them now live under plastic sheets close to their former homes, in rice fields or on roadsides, while the rest are staying with relatives, he said. Their misery has been compounded by days of intermittent rain and blazing sun.
Many villagers complained they were not getting the help they needed. In the village of Payak in Bantul, some people searched for scraps of tin and other materials to rebuild crumbled homes, while others blocked traffic to beg for money.
"We are forced to do this because the only aid we've received is a bit of food and some cooking oil," said Ribut Setyo Pambudi, 17, after jumping in front of a bus. "We don't have any money to rebuild, to buy gasoline or even to go out to try to find work."
Getting food and fresh water to survivors remained a pressing concern, with some $5 million needed over the next few months to pay for emergency rations of enriched noodles and high-energy biscuits, the U.N. World Food Program said.
Many villagers complained they were not getting the help they needed.
"All we got today was a half-kilogram (one pound) of rice," said Ratimah, 60, who has a family of four to feed. "It's not enough."
But Jan Egeland, the U.N.'s top humanitarian official, said the aid effort appeared to be going well overall, with major improvements in coordination among aid organizations and nations since the 2004 tsunami that killed 131,000 people in Indonesia's Aceh province alone.
Conditions improved at two hospitals in the area, where parking lots and hallways filled with hundreds of victims in the days after the quake were clear, with most patients now being treated in beds.
The main hospital in Bantul was still overwhelmed, however, with more than 400 patients for just over 100 beds.
"We are short of splints, gauze, even beds," said Dr. Hidayat, the hospital's emergency coordinator, adding that 90 percent of the victims had bone fractures. "The minute we get fresh splints, they are gone."
Chinese doctors treated patients at a field hospital, while U.S. Marines set up their own emergency medical unit in a soccer stadium in Bantul district.
"The conditions are tragic, but the guys and gals were absolutely ecstatic to leave at a moment's notice," said 1st Lt. Eric Tausch of a U.S. Marine division based in Okinawa, Japan.
Relief teams from Thailand, Malaysia and Singapore also were providing assistance.
Though international rescue crews have said there was little hope of finding more bodies, a Singaporean search team discovered one corpse at the bottom of a cliff Wednesday, apparently propelled over the edge by the force of the quake, said Maj. Ow Yong Tuck Wah.
The team used jacks and air cushions to free the body from beneath a large boulder, he said.