Iraq's unity government sworn into office
(AP)
Updated: 2006-05-21 10:12
BAGHDAD, Iraq - After five months of often bitter wrangling over Cabinet posts, Iraq's unity government took office and vowed to fight the insurgency, restore stability and set the stage for the eventual withdrawal of U.S. and other foreign troops.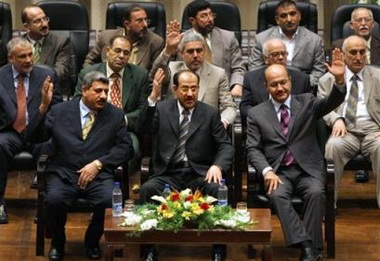 Iraq's new parliament holds inauguration.[Xinhuanet]
As the Cabinet was sworn in Saturday, at least 33 people were killed in a series of attacks across Iraq, and police found the bodies of 22 Iraqis who apparently had been kidnapped and tortured by death squads that plague the capital and other areas.
The new permanent government resulting from December's elections in which 12 million Iraqis participated has been portrayed by Western officials as the best hope for changing the dynamics of violence in Iraq. But it must expand control and persuade insurgents, assassins and militias to stand down, with no guarantee of success.
U.S. President George W. Bush, who is facing rising criticism at home over Iraq, welcomed the new Cabinet and promised continued help from the United States.
"The United States and freedom-loving nations around the world will stand with Iraq as it takes its place among the world's democracies and as an ally in the war on terror," Bush said in a statement.
U.S. Ambassador Zalmay Khalilzad repeated U.S. cautions against expectations of a quick pullout of the 132,000-strong American military contingent. But, he added, "strategically, we're going to be moving in the direction of downsizing our forces."
Prime Minister Nouri al-Maliki and the others on the 40-member Cabinet took the oath of office inside the heavily fortified Green Zone in central Baghdad, where American and Iraqi troops provide security from the turmoil sweeping the country.
After a two-hour delay, reportedly because of last-minute wrangling over some Cabinet posts, legislators dressed in suits or traditional Arab robes slowly filed into the parliament chamber. Outgoing members of the interim legislature greeted each other with kisses to the cheeks.