A man attacked the leader of South Korea's main opposition party with a box cutter Saturday, leaving a long cut on her face, but the wound was not life-threatening, a party official and police said.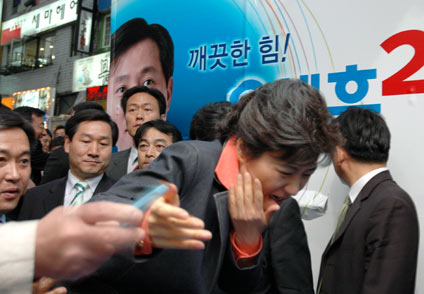 An unidentified man, whose hand is seen on left in this photo, uses a penknife to assault Park Geun-hye, leader of South Korea's main opposition Grand National Party during a campaign for local elections in Seoul May 20, 2006. Park suffered a 10-cm cut on the right side of her face after the assault, local media reported. [Reuters]
Park Geun-hye, chairwoman of the Grand National Party, was campaigning in the South Korean capital, Seoul, for upcoming local elections when she was attacked, said Lee Jung-hyun, a spokesman for the party.
Park suffered a 10-centimeter (4-inch) cut on her face and was undergoing surgery in a Seoul hospital, Lee said, adding that she required about 40-60 stitches.
"It's not a life-threatening one," he said.
Lee said the attacker, a man, wielded a box cutter as Park walked onto a makeshift podium at a street campaign rally to make a speech in support of her party's candidate for Seoul mayor.
The suspect was detained at the scene, said an officer at Seoul's Seodaemun Police Station, without giving his name. He didn't provide any more details, including the suspect's identity and the motive, saying an investigation was underway.
But South Korea's Yonhap news agency described him as in his 50s, and reported that another man, described as an accomplice, was also in custody.
Hospital officials declined to comment.
Official campaigning began this week for the May 31 elections that will select mayors, governors and members of local councils across the country.
The GNP is the country's largest opposition force, with 125 seats in the 297-member, unicameral assembly. The ruling Uri Party has 142 seats.
Park, 54, is a daughter of late President Park Chung-hee, who ruled South Korea for 18 years after taking power through a 1961 military coup.