The death toll from Typhoon Chanchu rose to 32 in the Philippines on Sunday, after more bodies were found from a capsized boat, and officials said the storm had affected or displaced more than 42,000 people.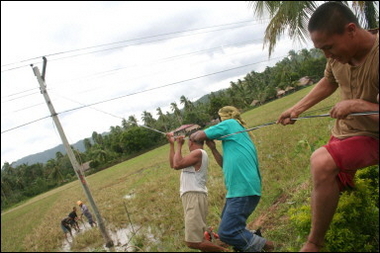 Residents of Bulan Town, in Sorsogon Province, recover a downed power line damage by a tropical storm Chanchu. The Philippines has begun cleaning up after tropical storm Chanchu claimed 30 lives, left large parts of the country underwater and forced thousands away from their homes. [AFP]
The National Disaster Coordinating Council said eight people, most of them fishermen, were still missing.
Most of those killed were from a boat that capsized off Masbate island in the south of Luzon region early on Friday, the council said.
It raised the toll from the Mae Ann 5 capsizing, to 25 after more bodies were found offshore Masbate. Officials said 18 survived the accident and two were missing.
Seven other people were killed elsewhere, including three hit by falling coconut trees, the disaster council said.
"There were bridges that were washed out and landslide areas that we need to clear," disaster council administrator Glenn Rabonza said on local radio.
The disaster council said 608 houses were destroyed while 3,542 were partially damaged.
Damages to agriculture -- including coconut plantations, rice and corn -- have yet to be determined, the disaster council said. The Philippine capital remained cloudy on Sunday with strong wind gusts. Residents in some areas complained of power outages due to toppled billboards and snapped tree branches that had yet to be cleared.
Some areas in the Bicol region were without electricity for a fourth day on Sunday, Rhadz Barcia, a resident of Legazpi City in Albay, told Reuters by phone.
A two-day meeting of Southeast Asian trade ministers at the Boracay resort in the central Philippines has been moved to Manila, said Ramon Kabigting, director of the Bureau of International Trade Relations.
The meeting was scheduled to begin on Monday.
The Philippine weather bureau said Chanchu, with winds gusting up to 150 kph (93 mph), was moving westward away from the Southeast Asian country..
"The typhoon is now in the South China Sea and moving away from the country, but rains and gusty winds will prevail over southwestern Luzon today and tomorrow," Ludy Alviar, a government meteorologist told Reuters.
About 20 typhoons hit the Philippine archipelago each year, seven of which cross the country, mostly during the rainy season that lasts from mid-May until September.