Google Inc. (Nasdaq:GOOG - news) will replace oil and gas producer Burlington Resources Inc. (NYSE:BR - news) in the S&P 500 Index, Standard & Poor's said on Thursday sending the Web search leader's shares up 9 percent.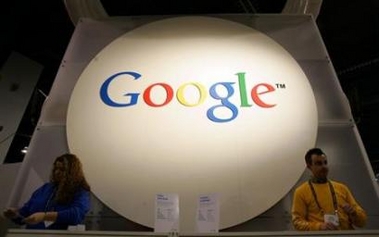 The Google booth is seen at the 2006 Consumer Electronics Show in Las Vegas, in this January 5, 2006 file photo. On March 23, S and P said Google Inc. will replace Burlington Resources Inc. on the S and P 500 Index. [Reuters]
The move, which takes effect after the close of trade on March 31, means many portfolio managers will have to add Google shares to their holdings. Many index funds base investments on whether a stock is included in the S&P 500, a key stock market barometer.
The move adds some volatility to the index and provides new respectability for an upstart company that regularly has confounded Wall Street since going public in August 2004 with policies such as refusing to issue financial forecasts.
"I see more respect for Google because it made it to the big time and rightfully so based on revenues and market capitalization," said Richard Sichel, chief investment officer at Philadelphia Trust Co. where he helps oversee $1.5 billion.
Google's market value of $101.1 billion would make it the 19th-largest member of the S&P 500 based on Thursday's closing prices. Exxon Mobil Corp. (NYSE:XOM - news), with a market value of $374 billion, is the largest member.
S&P said Google would make up a little less than 1 percent of the index.
Shares of Google, which went public in August 2004 at $85 a share, jumped $30.82 to $372.71 in after-hours trading on the Inet network, up from a Nasdaq close of $341.89.
Burlington Resources is exiting the index because it is being acquired by S&P 500 constituent ConocoPhillips (NYSE:COP - news).
Shares of Google, based in Mountain View, California, soared as high as $475 earlier this year, but fell after the company's chief financial officer last month said revenue growth was bound to slow.
"Funds are going to have to come in and take positions if they don't have it," based on inclusion in the index, said Peter Cardillo, chief market analyst and chief strategist with SW Bach and Co.
Google generates more than 97 percent of its revenue from search-related advertising, and executives want to push beyond Web search advertising into other forms of online and offline advertising including radio, mobile phones, video and print.
Market research firm comScore Networks Inc. shows Google with 40 percent of the U.S. market for Web search, and between a 60 percent and 80 percent share of most European markets.
David Blitzer, managing director of the S&P index committee, said by last fall Google had met the criteria that included four quarters of positive earnings and half the company's shares in public hands to qualify for its addition to the index.
"Its addition has generated probably more speculation than anything that I can remember," he said.