LOS ANGELES: After more than three-quarters of a century working for public transit agencies, a bus maintenance worker retired yesterday on his 100th birthday.
For decades, Arthur Winston reported to work at a bus yard at the crack of dawn. By 6 am, he would be supervising a crew of workers as they cleaned and refuelled the region's bus fleet.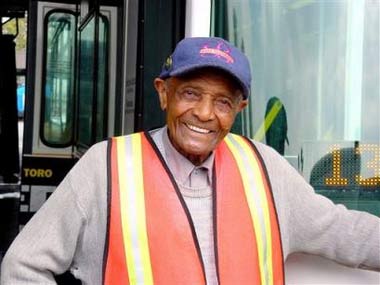 Arthur Winston retires on his 100th birthday. [AP]
But on Tuesday, Winston abandoned his routine and put on a suit, tie and black fedora and headed downtown to meet the Los Angeles County Board of Supervisors. There, he was lauded for his nearly perfect work record and decades of service with what is currently called the Metropolitan Transportation Authority.
"I'm kind of nervous about leaving the job. I've been doing it for so long," Winston said. "I'm going to miss my crew. But I'll find plenty of things to do with my free time."
Winston has missed only one day of work in his entire career, transit officials say. That was in 1988, when his wife of 65 years died.
"He has an impeccable safety record, he never calls in sick, he's always on time, he's Mr Reliable," said Alex DiNuzzo, Winston's manager of seven years.
A co-worker, Sergio Rubalcava, said Winston began each work day by bending over to touch his toes to demonstrate that he was fit to work.
Winston said he was born in Oklahoma and began picking cotton when he was 10. When droughts and storms ruined several crop seasons, his family headed west and in 1924 he found work with the Pacific Electric Railway Co.
Winston said he could have retired when he was in his 70s, but he wanted to continue working to support family members who were struggling financially or pursuing college degrees.
He said he plans to keep busy in his retirement by doing charity work and taking advantage of his free bus pass to explore the city. "I'll be on the move. I'm not going to sit and mope in the house," he said.