Expert: Traveling to Inner Mongolia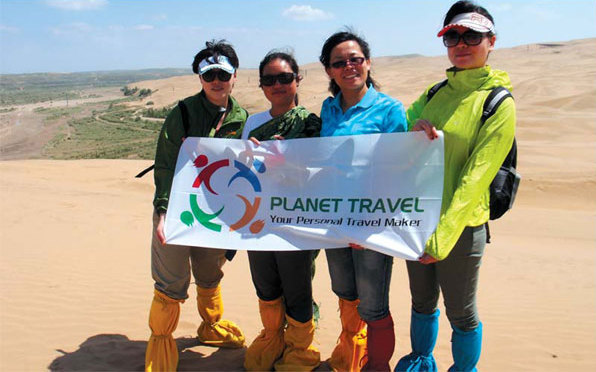 Planet Travel employees Zhou Shuang, Kuang Jiangnan, Liu Fen, a local tour guide and employee He Yong at the Xiangshawan Desert in the city of Erdos, Inner Mongolia. Photos provided to China Daily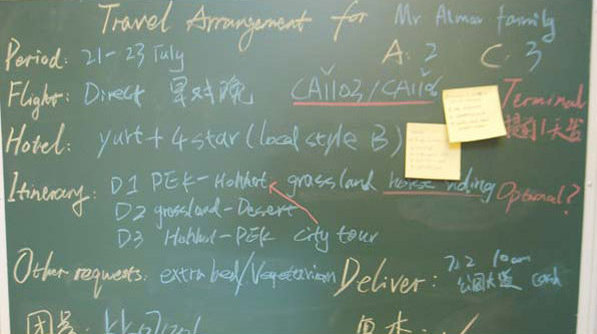 The note board is an essential part of daily work at Planet Travel and it is often filled with travel plans for tourists.
Company touts area to undecided tourists
China has many scenic spots and places of interest, leaving tourists split on where to go. Planet Travel, a "private travel butler service," recommends Inner Mongolia for those undecided travelers.
The company has experience in catering to the needs of expats living in China or foreigners who plan to tour the country.
According to company officials, it's best to visit Inner Mongolia from July to Sept, where tourists can enjoy the nature and horseback riding. Last year, Planet Travel arranged more than 20 families to travel to the Inner Mongolia prairie.
Kuang Jiangnan, a travel consultant at Planet Travel, worked with an Indian family who were interested in taking a trip to the area but was on a tight budget. Kuang decided to put them on train berths instead of booking them a flight, saving cost while maintaining comfort.
She led the family to a cheap but good quality hotel, and helped them find good vegitarian food after the consultant found out they did not eat meat.
Her efforts ensured the family didn't miss out tourist attractions while helping them cut costs.
Communication is very important when making travel plans for customers, company officials said.
Last year, Kuang met two customers from Hong Kong, who were unsure about what they wanted and refused her proposed plans twice. Kuang was patient with their uncertainty and after discussing and explaining her plans, she came up with one that would satisfy them.
"Sometimes, you never know what customers might throw at you, and all you have to do is be prepared and do your best," said Zhou Shuang, a manager at Planet Travel.
The consultant managed to set four Spanish guests up for a trip to Inner Mongolia after being informed of their sudden change of plans at the last minute.
She wasted no time contacting the Inner Mongolia tour guide, checked out air flights, and finally made up the whole trip plan after only a few hours of hard work.
Planet Travel prides itself in formulating custom-made plans for tourists. It once arranged a six-day horse-riding plan for five Australian young people, and had them on various paths with the accompany of professionals and cars, equipped with lunches and various necessary things for emergency.
After the trip, the customers sent a thank-you letter, stating that it was the most memorable trip for them, according to the company.
However not every situation is as desirable.
Liu Yan, a customer-service manager at Planet Travel, once received a group of 16 teachers from an international school, and she didn't calculate the horse riding with the idea that some of the teachers may not be interested. However, the customers later demanded to ride horses for free, because it didn't appear on the price sheet. To appease their misunderstanding, Liu paid the bill out of her own pocket.
As for living conditions, the company chooses the local best facilities, which they send experts to check beforehand. Tourists can enjoy the experience of living in local yurts, which are well furnished with a clean bed, an independent bathroom, and hot water.
Tips for travel
The best season to travel Inner Mongolia is from late June to the end of Sept.
There is a wide temperature gap between day and night and the weather is constantly changing. So, please prepare long-sleeved clothes and rain gear.
Inner Mongolia is 1,500 meters above sea level and has strong sunlight and ultraviolet ray, so it's advisable to bring sunblock or a sun hat.
The climate in Inner Mongolia is dry, so please drink enough water. In addition, it's better for tourists to reserve bottled mineral water because local drinking water has a high alkali content.
There are many ritual taboos in Inner Mongolia, so get relevant information beforehand.
Prepare drugs against cold, fever, diarrhea and skin allergy, in case of emergency.
Gloves and hiking shoes are necessary when riding horses.
It's important to drive or ride horses in designated areas to avoid getting lost in the vast prairie and protect the grasslands.
Bring a local and a flashlight when going out for night activities, because it's difficult to tell directions at night.