Young violinist takes a bow on international stage
Updated: 2014-06-22 07:33
By Mike Peters (China Daily)
| | | | | | | | | |
| --- | --- | --- | --- | --- | --- | --- | --- | --- |
|   | | Print | | Mail | | Large Medium  Small | 分享按钮 | 0 |
For the first time, Maria Nauen has a student whose natural musical gift is greater than her own.
"The boy is extremely talented - he has amazing ears," she says of 12-year-old prodigy, Hiroto Yamamoto.
"He will be a big musician with a big M."
Recently, Nauer took him to compete in an international competition being held in her hometown of Vladivostok, Russia.
Preparing for that recital, the two decided to take a risk. Instead of playing a well-known piece, they decided he would perform a work no jury had ever heard before. Nauer's friend Brent Parker, a New Zealand-born composer and pianist who lived in Beijing for 20 months, had heard her conduct Hiroto at a concert in the German embassy school. Inspired by the boy's virtuosity, Parker wrote a violin concerto for him, and Nauer was eager to take that music to Vladivostok.
She called a competition official to ask permission, and was asked to send a recording of the piece.
"How can we?" she remembers asking. "It has never been played."
However, she made a short, raw "lesson recording" and sent it. And then waited. It took a month before the official finally called her back. Not all of the judges were happy, but they decided to approve it, he told her, adding the cautionary note that not all of the audience would find the piece easy to like.
Nauen concedes that it's difficult to impress people with something new.
"People don't know how to react," she says. "New music, especially difficult music - the success of such music depends on the performer."
By the time the two arrived in Vladivostok, Nauer was having backstage jitters, and she was asking herself if she should have given Hiroto something "safer" for his international debut.
However, it was too late to change now, so she told him: "Just make music. Music is not about how many right or wrong notes you play. It's about moving people. Impress them not by your technical level, but musically."
The advice paid off: Hiroto not only survived the opening round of competition - his teacher's goal for his first international contest - he walked away at the end with the silver medal.
"Hiroto was nervous and made a few mistakes, but his overall interpretation was first-class and I am delighted he came in second, against older competition," says composer Parker, who also had warm words for the pianist who accompanied Hiroto, Dmitry Volobuev.
"Dmitry interprets my work in a way that thrills me to say the least. His support of Hiroto is superb."
"Hiroto works very hard," Nauen says today. "He's not in a battle with others to be first. He's more in a battle with himself to push and see how far his abilities can take him."
But he's also a 12-year-old boy who likes soccer and other games, Nauer acknowledges with a smile. A week before the international competition, she was shocked when Hiroto told her that he was going away for a trip to the mountains with his classmates for a few days.
"If I had told this to my teacher, she would have killed me," Nauer says. "I said: 'No way, this is an international competition. You cannot imagine how difficult it is. You must think about it 24 hours a day, and practice!"
"But he said: 'I wanted to see this mountain so much, I have been waiting a long time for this trip'."
"What can you say?" asks Nauer, who acquiesced with the request. "Just don't break your hands, please."
mikepeters@chinadaily.com.cn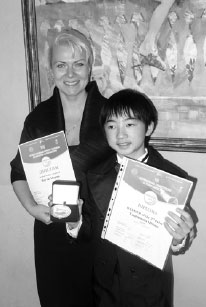 Nauen says Hiroto Yamamoto has a natural musical gift that is greater than her own. Provided to China Daily
(China Daily 06/22/2014 page5)