Courageous trek for a cause
Updated: 2014-06-22 07:02
By Xu Jingxi in Guangzhou (China Daily)
| | | | | | | | | |
| --- | --- | --- | --- | --- | --- | --- | --- | --- |
|   | | Print | | Mail | | Large Medium  Small | 分享按钮 | 0 |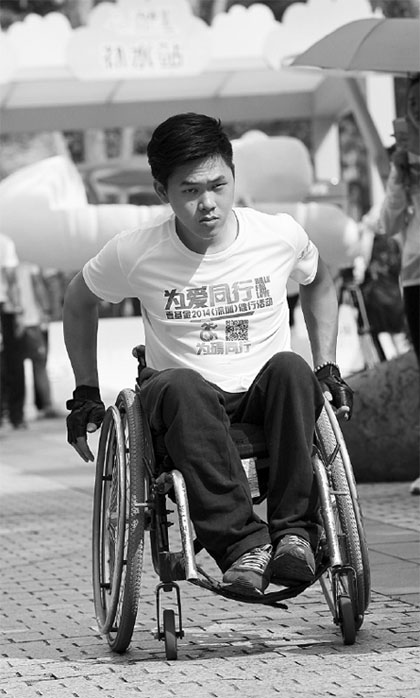 Wheelchair athlete Lin Wenchao takes part in the Walk for Love campaign in Shenzhen, Guangdong province. He completed the 49.8-km mountain trail in 13 hours. Provided to China Daily
Wheelchair athletes hit trail in support of campaign for safe drinking water
After a 13-hour trek over rough terrain, in the dark, Lin Wenchao finally crossed the finish line - in his wheelchair.
He was almost the last competitor to complete the 49.8-kilometer mountain trail, but he was justly proud of his accomplishment.
Lin's team, which comprised four wheelchair-bound entrants and nine family members and friends, was one of 1,000 groups that took part in the Shenzhen event of this year's Walk for Love, a charity campaign initiated by Ice Dew Chun Yue, a bottled water brand under Coca-Cola, and One Foundation.
The hike kicked off on June 14 at 6 p.m. in Shenzhen OCT East Resort. Divided into three groups, the 4,000 hikers embarked on a trail that reached a peak of 636 meters in the hope of motivating more people to join the effort to improve the quality of drinking water in impoverished and disaster-affected areas.
Besides finishing the trail, each team was assigned the task of raising at least 1,000 yuan ($160) before July 14. By 10 p.m. on June 14, the teams had raised 1.64 million yuan which, along with the Coca-Cola China charity fund, will finance the Clean Water Project.
The project, co-founded by Coco-Cola China and One Foundation, plans to install water purification equipment in more than 100 rural schools and provide 40,000 children with clean drinking water.
Zhang Huaying, vice-president of Coca-Cola Greater China and Korea, said she believes the campaign is off to a flying start.
"We pursue quality while producing drinking water and we are concerned about drinking water safety. That drives us to constantly work with governments, non-governmental institutions, our business partners and consumers to ensure the drinking water safety for people," Zhang said.
Cheng Ying, a 23-year-old charity worker, traveled from Urumqi to Hotan in Xinjiang Uygur autonomous region in May to research the Clean Water Project.
"In Hotan, I saw what the local rural children drank. I also saw the purification equipment installed by One Foundation in Lazishu village in Guizhou province, which will be installed in Hotan as well and will greatly improve the quality of drinking water there," said Cheng, who took part in Walk for Love in Shen-zhen.
"I'm so motivated by the idea that my tiny effort will make the equipment accessible to kids in Hotan," she said.
"I believe we will have a good society when every citizen is engaged in charity."
Lin, the 26-year-old wheelchair-bound entrant, said he hopes his team's participation will encourage more people to become engaged in public service.
"If we (physically challenged people) are able to participate in charity events and make contributions, why can't people of physical fitness do more?" Lin said.
More importantly, he said he hopes to set an example for physically challenged people that they need to take part in social activities and change perceptions about them.
"Most physically challenged people feel themselves inferior and presume that strangers will discriminate against them," Lin said.
"But we received a lot of admiration and encouragement from the other participants on the mountain trail."
When Lin and his teammates struggled along rough terrain in their wheelchairs, their friends and family members were joined by strangers in providing a helping hand.
"Physically challenged people should be more engaged in social activities to leave a new, positive impression on the society," said Lin, who will enter the next Walk for Love hike in Changsha, Hunan province, in October.
The number of registered hikers for this year's Walk for Love campaign is nearly twice as large as that of last year.
The 2013 Walk for Love campaign in Hangzhou raised more than 1.31 million yuan for the Clean Water Project and benefited more than 10,000 rural children.
xujingxi@chinadaily.com.cn
(China Daily 06/22/2014 page11)