Turkish treat
Updated: 2014-06-22 07:00
By Bidisha Bagchi (China Daily)
| | | | | | | | | |
| --- | --- | --- | --- | --- | --- | --- | --- | --- |
|   | | Print | | Mail | | Large Medium  Small | 分享按钮 | 0 |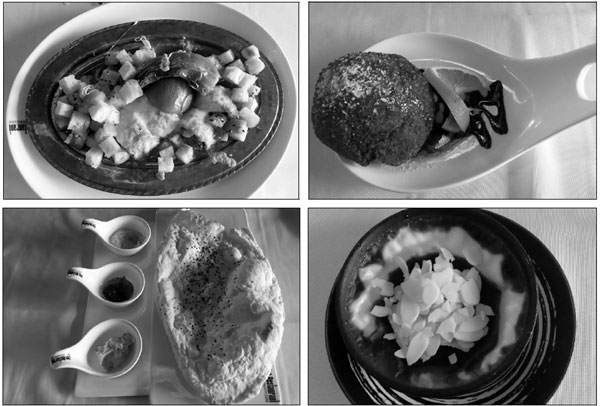 Clockwise from top left: Sultan sarma highlights the main dishes. Ice cream is served with chocolate sauce. Lavash bread is soft and fluffy. Rice pudding is recommended for dessert. Photos by Bidisha Bagchi / For China Daily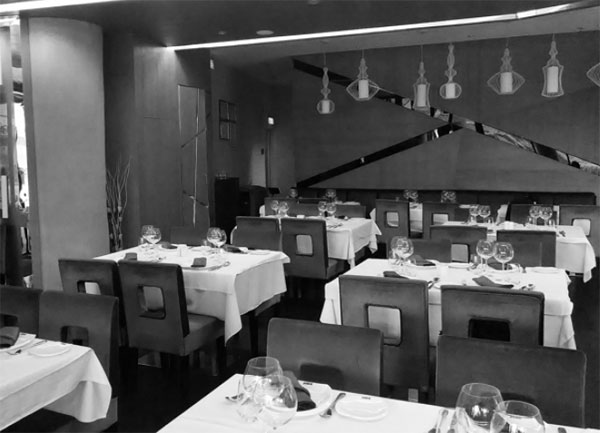 Efes Turkish & Mediterranean Cuisine Restaurant presents intimate style.
The Ottoman Empire comes to life on the table at the unpretentious eatery Efes, Bidisha Bagchi reports in Shanghai.
Even though the decor has no touch of the Ottoman Empire - except the two evil-eye pendants that hang from one of the walls, the food at Efes Turkish & Mediterranean Cuisine Restaurant is both authentic and out of this world.
This regional cuisine is sometimes described as refined art, such is its diversity and richness. Meaty items like lamb, chicken and beef are stars, be they grilled or barbecued, and blends of common ingredients like coriander, cumin, mint and other spices make the fare distinctive.
We started our feast by ordering the "mezze", the starter platter that had both warm and cold options. Tzatziki or cacik (yogurt dip with cucumbers and olive oil), hummus (ground chick peas blended with olive oil, salt and garlic) and tahini (sesame-seed paste) were our complimentary starters. We had a large, soft and fluffy lavash bread, fresh-baked and satisfying. With it came three dips: chili garlic, mushroom sauce and tartar sauce.
From the soup list, we opted for the refreshing ezogelin, the traditional Turkish lentil soup. Our salad choice, gavurdagi, featured a delicious pomegranate sauce for the colorful greens and vegetables topped with herbs and nuts.
For warm appetizers, the "Mediterranean spring rolls" were warm and tasty. They were made with thin yufka bread, stuffed with feta cheese and parsley, then rolled and deep-fried. Chiburekki and yetli yaprak sarma are also both worth trying; they are examples of how the food traditions of the Turkish ethnic group in Crimea and a Greek dish have blended together to be a part of Ottoman cuisine. Cheburekki is a simple, deep-fried phyllo dough stuffed with minced beef, onion and herbs, while yetli yaprak sarma features rice and mixed meat, wrapped in vine leaves and baked. This item in Greek cuisine is popularly called dolmadakia or dolmades.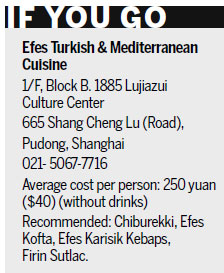 As we pondered the Turkish menu's main dishes, the aroma of charcoal grilled kebabs and koftas tingled our taste buds. Starting from marinated chunks of chicken to minced beef or lamb, skewered meat to grilled shrimps or just fresh vegetables - everything was there.
We found the "single" portions to be quite big and plenty for two to share. The koftas, meatballs made of ground beef and minced lamb and served with a side of seasonal vegetables - were soft, succulent and melted in the mouth. Though delicious, I did not like was the way the dish was presented. The koftas were scattered all over the plate with some vegetables carelessly thrown in.
The other item from the charcoal grill was a mixed kebab platter of kofta, lamb chops, chicken wings, beef shish, chicken chops served with rice and seasonal vegetables. This itself could be a full meal for a family of two. The chicken wings were crispy, and the chops fell of the bones in one bite.
Even though we were quite full, we did not want to miss the "Sultan sarma" on the list of main dishes.
This was charcoal-grilled minced beef and lamb balls, rolled in Turkish lavash bread, topped with cheese, diced potatoes, green peppers and tomatos, all baked and served in a beautiful tray. This was a heavy item as the cheese normally wipes away the appetite. Those looking for a taste of Turkish pizzas can choose from minis or the sliced and stuffed pita breads.
No meal can end without a dessert or two and here there was a choice of three traditional ones.

Kizarmis dondurma is a really big scoop of vanilla ice cream, coated with cornflakes and deep fried, and served with chocolate sauce. Call it truly sinful! We also enjoyed firin sutlac, a simple rice pudding.
A typical Turkish meal usually ends with either a coffee from that region or a mint tea. Efes did not serve any of these, however, so we settled for a bottle of water.
Contact the writer at sundayed@chinadaily.com.cn
(China Daily 06/22/2014 page8)