Dining where smoke is welcome
Updated: 2013-09-01 08:11
By Mike Peters(China Daily)
| | | | | | | | | |
| --- | --- | --- | --- | --- | --- | --- | --- | --- |
|   | | Print | | Mail | | Large Medium  Small | 分享按钮 | 0 |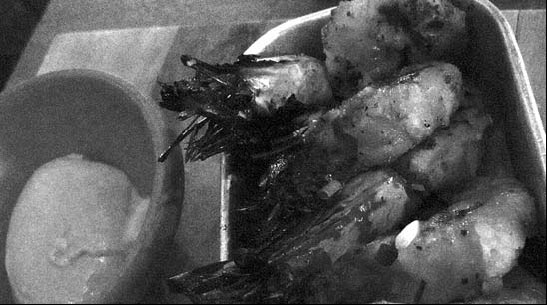 Bourbon prawns is a seafood star on the menu.
There was a time when I was as likely to put a frog in my beer as to add watermelon. That time, in fact, was pretty much my whole life - until yesterday.
But as I relaxed at a sunny sidewalk table outside the Big Smoke, enjoying the light tang of cooked meat in the air, something strange happened. I was scanning the seasonal beers offered on draft, and the watermelon summer wheat sounded kinda good.
In fact, it sounded better than it was - Smoke on the Beech, a mellow amber ale with a hint of citrus, made me much happier when it was time for a second round. But I was glad I sampled both - each light and savory, and each a nice sidekick for a big plate of ribs.
In China, the ultimate test of barbecue might be "How good is the lamb on a stick?" In America, a barbecue palace is often judged by its ribs, which get star billing on the menu our server at the Big Smoke presents.
The kitchen here comes through in spades: As smoky as the restaurant's name promises, served with a fine savory sauce on the side with just an edge of sweetness. In a bow to today's tastes for healthy eating, the ribs are quite lean, but still falling-off-the-bone tender.
On previous visits we've gone inside, where a brick-warehouse ambiance is snug and cozy. This is no hole-in-the-wall barbecue joint - forget the smoky wooden shacks of Dixie, where barbecue is served wrapped in paper. There is a spectrum of well-prepared Western dishes and a hip but not in-your-face decor.
A nice array of appetizers allows for ample snacking over drinks, and a summer salad of grilled zucchini mated with charred fennel is a don't-miss starter. Roasted root veggies were an unexpected offering among sides in summertime, and it may be the surprise that made it work for us. Or maybe we're suckers for caramelized beets in any season.
Seafood is an unexpected winner on the menu. Bourbon-soused grilled prawns, served with a thick aoli, make getting your fingers sticky a real pleasure. But the stud from the sea is the clambake, a feast of shellfish for one or a more-than-adequate appetizer for three or four. It's so filling and happy-making that we almost regretted ordering the grilled scallops, too. But who could lament the arrival of those fat, succulent beauties?
The restaurant's name is manifest in two of the menu's best-sellers. The eight-hour wood-fired pig is a tender mass of muscle with crackly bits of skin. The braised lamb shank cooks for a total of seven hours and each forkful is almost silky on the tongue.
The Big Smoke shares space with a brotherly tenant, Capital Brewing, and we can see the gleaming beer vats that provide craft brews like the currently tapped Flying Fist IPA and Smoke on the Beech for the host restaurant as well as Capital's other clients.
The collaboration works in a way that Ginger Rogers and Fred Astaire might have envied, giving even more energy to an already lively side street near Beijing Workers' Stadium.
michaelpeters@chinadaily.com.cn

(China Daily 09/01/2013 page13)