Carousel of fairs shakes up art world
Updated: 2013-09-01 08:11
By Graham Bowley(The New York Times)
| | | | | | | | | |
| --- | --- | --- | --- | --- | --- | --- | --- | --- |
|   | | Print | | Mail | | Large Medium  Small | 分享按钮 | 0 |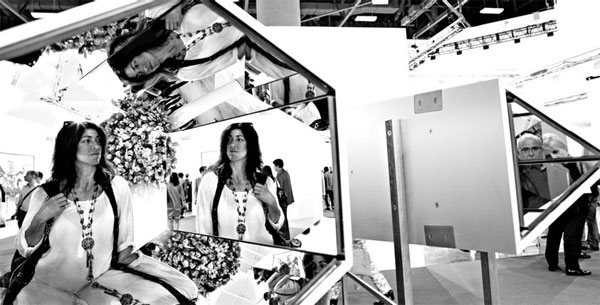 Art Basel in Miami is one of the fairs attracting new moneyed classes from Kiev, Shanghai, Doha and Abu Dhabi. Katie Orlinsky for The New York Times
In just the past few months Gordon VeneKlasen, a New York art dealer, flew to Hong Kong for that city's first global art fair; gave a party for 50 at Harry's Bar in Venice; installed an exhibition at his gallery in London; spent three days schmoozing American collectors in San Sebastian, Spain; and then jetted off to Switzerland for one of the biggest events of the art-world calendar, Art Basel.
Mr. VeneKlasen, 51, recalls a simpler time, just a decade ago, when he could sit in his gallery and wait. "People came to you," he said. "Now they have us marching."
Globalization has come to the art market, and dealers are being forced onto a worldwide carousel of art fairs. By offering what a gallery cannot - endless gawking at artwork, artists and celebrities - the fairs are popular and glamorous, attracting both the new moneyed classes that fly in from Kiev, Shanghai, or Abu Dhabi and the serious American collectors who now do their browsing at fairs.
Mr. VeneKlasen said 75 percent of his sales 10 years ago were made in his galleries, but now nearly two-thirds of revenues are earned on the road.
Some dealers attended up to 10 fairs a year, according to a European Fine Art Foundation report.
"In the early '70s there were four major art fairs; in the 1990s, 50; and suddenly now there are 180," said Linda Blumberg of the Art Dealers Association of America.
The fairs' economics are shaking up dealers' lives, and the art market, especially for galleries below the top tier. While large galleries can pay the art fairs' hefty fees and the cost of this globe-trotting existence, others find they are priced out.
"For a midsized gallery," said Christopher D'Amelio, 47, a Manhattan dealer who closed his own gallery this year to become a partner at a larger one, "everything is a challenge."
Many small dealers struggle even to get past the long waiting lists for entrance into the fairs, while those that win access must work hard to recoup the costs, including the booth fee, airfares, hotels and entertainment. Just a booth can start at $15,000, or even go to $100,000 and above for a larger space.
Many of the biggest galleries at the top end of the market are thriving, but those at the bottom are contracting. Sales by dealers with annual revenue of less than 500,000 euros fell 17 percent in 2012, whereas sales for dealers with annual revenue exceeding 10 million euros rose 55 percent.
Some galleries showing younger artists can still attract people from the street, and attendance is up, gallery owners say. But for more established artists, with more expensive work, dealers have to go where the customers are.
One longtime art collector, Howard Rachofsky of Dallas, used to buy his art mainly in New York, but in the past year he has traveled to fairs in Basel, New York and London.
"You want to see art, and you want to see the people behind it, get to know the gallerists and, ultimately, the artists, and the easiest and most efficient way of doing this is at an art fair," Mr. Rachofsky said.
For dealers, attending the fairs takes a lot of planning, and it is expensive. Galleries must build inventory to take on the road, and ship it, produce catalogs and send installers ahead to prepare the art fair stand.
Mr. VeneKlasen this year hired an emerging visual artist, Aaron Curry, to design his booth in Hong Kong, shipping hundreds of silk-screen panels from Los Angeles.
Some big New York galleries send as many as 20 employees to staff the fairs; travel, hotels and parties for collectors, as well as insurance and installation for the art, can push the cost past $300,000 for one fair alone.
Some dealers only reluctantly take part. Paula Cooper, a New York art dealer, attends some fairs because they allow her to see work from numerous countries in one place. But mostly she sends others from her gallery, decrying the loss of what she describes as a more thoughtful time even just five years ago when she could sit with artists and collectors and talk about art.
"It is becoming a global enterprise," she said.
The fairs also have an impact on artists, who are producing work according to the demands of the art fair calendar rather than their own creative rhythms.
Arne Glimcher, of the Pace Gallery in New York, said he preferred others from his gallery to make the global trek.
"Fairs are beneath the dignity of art," he said. "To stand there in a booth and hawk your wares - it is just not how you sell art."
The New York Times
(China Daily 09/01/2013 page12)