20 years from now, Tonto's time might come
Updated: 2013-09-01 08:11
(The New York Times)
| | | | | | | | | |
| --- | --- | --- | --- | --- | --- | --- | --- | --- |
|   | | Print | | Mail | | Large Medium  Small | 分享按钮 | 0 |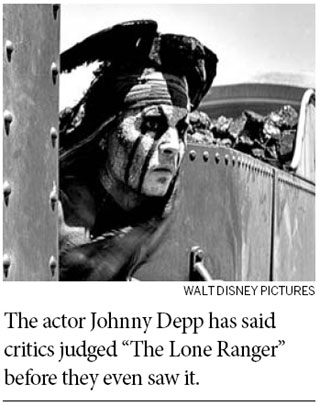 Fast-hardening conventional wisdom has declared 2013 the year of the flop, as one American movie box office catastrophe has followed another.
"After Earth," "White House Down," "R.I.P.D.," "Pacific Rim," "The Wolverine," "Turbo," "Elysium" and of course "The Lone Ranger" - these are among the releases that were, if not outright disasters, then at least far from the hits they were expected to be.
The critics hissed or shrugged, and the public did not turn out in sufficient numbers to put a dent in the nine-figure production and marketing budgets such projects now routinely command.
Some analysts have cautioned that international receipts may tell a different story. But "disappointing" and "underperforming" are among the gentler euphemisms that the news media have applied to these summer slackers.
One morning-show TV host summed it up concisely: "It's the summer of 'Ishtar'!"

"Ishtar," Elaine May's 1987 road comedy starring Dustin Hoffman and Warren Beatty as a hapless pair of songwriters, was released on Blu-ray in August, a few weeks after President Obama awarded Ms. May a National Medal of Arts. She is a beloved if still terribly underrated cultural figure. But "Ishtar" has entered the lexicon - along with "Heaven's Gate," "Waterworld" and "Howard the Duck" - as shorthand for large-scale cinematic unsuccess. Which is fine, except that "Ishtar" is a really good movie that suffered from very bad press.
Over the years, though, a slow but steady tide of revisionism has taken hold, and "Ishtar" has been rehabilitated by critics and cinephiles, who have been able to see a sly absurdist farce with keen psychological insights and prescient geopolitical implications. The plot follows the swaggering Chuck Clarke (Mr. Hoffman) and the shy Lyle Rogers (Mr. Beatty) on a tour of North Africa, where they tangle with C.I.A. operatives, left-wing militants and their own ineptitude.
Roger Ebert called "Ishtar" "a truly dreadful film, a lifeless, massive, lumbering exercise in failed comedy." The reviews were not uniformly negative, though. Writing in The New York Times, Janet Maslin found the movie "a likable, good-humored hybrid" of "small, funny moments and the pointless, oversized spectacle that these days is sine qua non for any hot-weather hit."
"'Ishtar' isn't 'Heaven's Gate,'" Ms. Maslin cautioned, but both have taken their place in the annals of "troubled" productions whose flopping was a foregone conclusion. Both have also enjoyed a measure of rehabilitation in the DVD era. The fates of these and other films can be taken as cautionary tales with conflicting morals. They illustrate either the consequences of creative hubris or the cruelty of a media herd eager to punish originality and aspiration.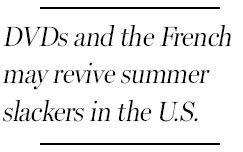 "Vertigo" was widely panned in 1958, and 55 years later it is officially - according to the decennial Sight & Sound poll - the greatest film of all time.
So if this is the "summer of 'Ishtar,'" which movie is "Ishtar"? The leading candidate would seem to be "The Lone Ranger," some of whose makers and stars tried in August to jump-start the process of reassessment. The strategy was to blame critics, who were accused of prejudging. According to Johnny Depp, "the reviews were written when they heard Gore and Jerry and me were going to do 'The Lone Ranger,'" referring to the director, Gore Verbinski, and producer, Jerry Bruckheimer. Mr. Depp's co-star, Armie Hammer, cited "World War Z," another movie that arrived on a cloud of unflattering news reports. In his telling, when the critics failed to eviscerate that picture, "they decided to slit the jugular of our movie."
"The Lone Ranger" may yet ride again. Whispers of revisionism have started to come from France, where some critics are much more favorably disposed toward it than their American counterparts. (Chinese audiences have embraced "Pacific Rim," which made more money after three weeks in theaters there than in six weeks in the United States.) The French have a long history of appreciating American popular art sooner than Americans do.
"The Lone Ranger" has so far upheld this rule, finding its most passionate defense in the pages of Les Inrockuptibles, a savvy and irreverent publication. The Inrocks' critic, Jacky Goldberg, found not only "constant surprise" and "incalculable joy," but also "an astonishingly progressive discourse."
The New York Times
(China Daily 09/01/2013 page12)