A radical step across continents
Updated: 2013-09-01 08:09
By Harvey Dzodin(China Daily)
| | | | | | | | | |
| --- | --- | --- | --- | --- | --- | --- | --- | --- |
|   | | Print | | Mail | | Large Medium  Small | 分享按钮 | 0 |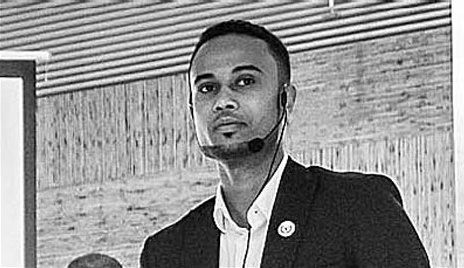 Tekeste Sebhat Negga runs YAPS to help African graduates find jobs by hosting CV workshops. Provided to China Daily
Former US president Franklin Delano Roosevelt said: "A radical is a man with both feet firmly planted in the air."
He obviously never met anyone like Tsinghua University senior student and youth leader Tekeste Sebhat Negga, a man of action and ideals with one foot firmly planted in China and the other in his beloved Africa.
By the Chinese definition, Negga qualifies as an Ethiopian princeling. His father was a guerilla fighter for 17 years. The political party he founded is still in power.
Negga has had China on his mind as long as he can remember. "The first time that I heard of China was when I was very, very young," he recalls.
"My dad was a Marxist-Leninist revolutionary so we had Mao books lying around and all 45 volumes of Lenin and a plethora of communist manifestos and socialist thinking. And that's how I first heard of China, from my dad talking about it at home.
"Later on, I wanted to do something different. From Addis (Ababa, Ethiopia's capital), I could see where Chinese-African and Chinese-Ethiopian relations were going, and I wanted to situate myself strategically between China and Africa."
Negga was accepted by universities all over the world and chose Tsinghua. The electrical engineering and automation major did not confine himself to his classes.
In 2009, Negga became the co-founder and president of Young African Professionals and Students, China's only pan-African youth organization.
"Our premise was that there was a good and robust dialogue going on up there on the political and diplomatic level with our leaders, but when you go down to the grassroots, there wasn't anything," Negga says. "And you need the youth, the people, the society to perpetuate any sort of relationship that we have."
YAPS is also a platform for young African professionals and students to talk about current China-Africa issues and promote Africa's "brand".
One mission is helping African students move on to employment by hosting resume-development workshops.
Thinking back on his college years five months away from graduation in China and seeing another unaddressed need, Negga founded Kiziga, which means a channel or circle in the Kignarwanda language of Rwanda.
"We've partnered with about 250 Chinese universities to accept applications on their behalf and built an online platform that an African student can come to and find all the information he or she needs to safely apply to a Chinese university as it's not easy to apply to them (directly) online," he says.
Is this son of a successful Maoist Marxist-Leninist guerilla fighter a capitalist?
"I do have a capitalist mind to a certain degree, but I am not so sure about my heart," he admits.
"I strongly believe that every country should be left alone to develop its own political model, as anything that is not internally driven and is prescribed from the outside is not sustainable and usually deadly."
Right now Negga is concentrating on a project he truly believes can change the world, especially Africa, using cloud computing and desktop virtualization.
"It's called Vingu, which means 'virtual cloud'," he says. "With one small Vingu box we'll be able to virtualize 50 to 100 computers. And we plan to put these in small African villages, schools, clinics and to sell them to SMEs there. Our technology dramatically reduces not only the cost of ownership but maintenance as well."
Negga hopes to make computing a human right.
"When you give people access, you are uplifting millions from poverty, and in five years this model will take over the African continent," he says.
China Daily
(China Daily 09/01/2013 page5)