Tough lessons
Updated: 2013-09-01 08:08
By Li Yang(China Daily)
| | | | | | | | | |
| --- | --- | --- | --- | --- | --- | --- | --- | --- |
|   | | Print | | Mail | | Large Medium  Small | 分享按钮 | 0 |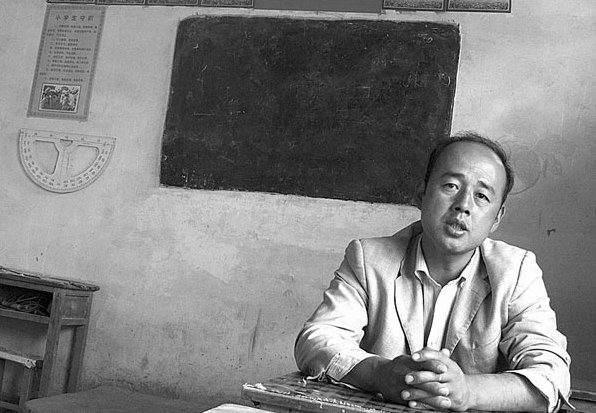 Zhang Xianyuan has been devoted to the grassroots pedagogy in an arid county in Gansu province for 10 years. Photos by Li Yang / China Daily
A teacher's devotion to a secluded desert mountain range is changing one of the country's poorest communities. Li Yang reports in Dongxiang, Gansu.
Zhang Xianyuan says much has changed in the 10 years since he arrived as the only teacher in the three adobe structures that served as Dachai Primary School in Gansu province's Dongxiang autonomous county. Dongxiang's 260,000 people dwell in China's fourth largest Muslim community, which ranks among the country's poorest. Most people are illiterate and can only speak the local language.
They've been secluded in the arid mountains since the Yuan Dynasty (1271-1368). The school is an "education point" - a basic grassroots pedagogical unit developed for children in extremely remote areas.
Zhang came to the school immediately after graduation and experienced difficulty adapting to the forbidding natural conditions and unitary ethnic culture.
Dongxiang education bureau's deputy director Tang Kai explains: "The children's social and filial education is taught in the Dongxiang language and according to religious customs. Pinyin is quite difficult for them. It takes about four years to teach them to communicate in simple Chinese. Most can only learn to write a few Chinese characters a year."
But Zhang doesn't regret his career choice.
"Religious doctrine means most of the girls will never leave the county or even their own villages," he explains.
"But if they work hard, they can learn Chinese and hold the key to the outside world."
The average age of his 34 students is 13, since younger kids couldn't travel far from home to attend classes."They sing children's songs in the same tone they read the Quran," Zhang says.
"It's the most melodious sound I've heard. It represents small souls screaming for better lives."
Zhang teaches Chinese, arithmetic, painting, music and physical education. He remains the school's only teacher, aside from occasional volunteers. The school serves five villages.
Zhang joined villagers to renovate the school into a structure of bricks, tiles and cement in 2007. The government bought the materials.
He points to a mountainous path leading from the school gate he says he and his students widened over three years.
"We could only work when it rained because the earth was too hard unless it was soaked," he recalls.
Zhang makes 1,000 yuan ($159) a month as a temporary teacher and is anxiously waiting for the local government to organize a certification exam. His salary will double if he passes.
Zhang's wife, Gao Longhong - a local high school graduate - is four months pregnant. They wed last year.
"My wife used to work as a migrant in Zhejiang province and always asks me to find a better job in eastern coastal cities," Zhang says.
"But I was born here. I'm attached to this land. If I leave, the children will probably drop out of school.
"She'd be satisfied if I got the certification. But it has been 10 years. I don't know when the government will host the exam."
Gao cooks the students' subsidized breakfasts. Since 2012, the children have been able to eat breakfast for 3 yuan.
"I love these kids, too," Gao says.
"But I really don't want my child to grow up in the mountains. It can reach -18 C in winter. And there's no water."
Zhang pays a tractor to carry 1 ton of water from the closest town every month. He transports the milk, eggs and bread for the subsidized breakfasts on his motorcycle. He makes the 2.5-hour trip every two weeks.
"He fell off and injured his leg one rainy night," Gao says, crying.
"I thought he was dead."
Zhang believes the hardships are paying off.
"People have been gradually changing their attitudes toward education," he says. "Most of my students finish primary school with family support."
Several of his students have graduated junior high. And one boy has finished high school since 2004. This had never happened before in the five villages.
"They call to tell me about their lives. I feel my efforts paid off. They treat me like an old friend," Zhang says.
Zhang says he has never had problems with discipline, largely because the kids' religious beliefs require good behavior.
"I treat the kids like my own. We're family. That's the best part of being a teacher in the mountains."
Contact the writer at liyang@chinadaily.com.cn.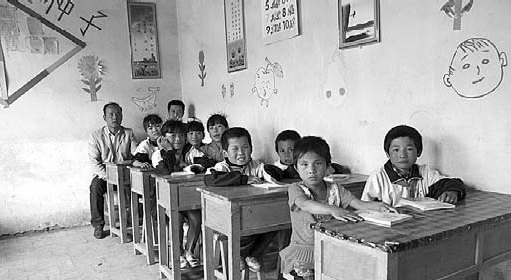 The school serves five villages and the average age of its 34 students is 13.
(China Daily 09/01/2013 page4)