Mass migration to cities a blessing for millions
Updated: 2013-07-21 08:22
By Cecily Liu in London (China Daily)
| | | | | | | | | |
| --- | --- | --- | --- | --- | --- | --- | --- | --- |
|   | | Print | | Mail | | Large Medium  Small | 分享按钮 | 0 |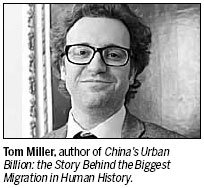 Urbanization will shape the future of China's relationship with the world as it facilitates the country's strategic economic shift from exports to consumption, says author Tom Miller.
"China's role in the global economy is going to get bigger and bigger and bigger, and urbanization is a part of that process. I think the biggest thing will be China becoming a source of demand for global products," Miller says.
Miller, who is managing editor of the research company GK Dragonomics' publication China Economic Quarterly, last year published the book China's Urban Billion: the Story Behind the Biggest Migration in Human History.
Its title refers to the commonly-cited forecast that China's urban population will reach 1 billion by 2030, which reflects enormous commercial opportunities considering China's urban population last year was only 711 million.
The book details Miller's first-hand observations of China's urbanization but also points out some challenges that he believes should be addressed urgently.
Challenges aside, Miller acknowledges that urbanization generates immense benefits for China's economy. "In one way urbanization equals development; every developed country has quite a high level of urbanization.
"So simply moving somebody off the farm where they can make little money into the city, whatever they do, even just mopping the floor, they are making more cash."
He says China's urbanization rate of 52.6 percent last year indicates huge potential for further growth considering many developed countries have around 80 percent.
Because Western countries urbanized earlier, they now have many lessons to teach China and they are in a good position to find commercial opportunities in the Chinese urban market, Miller says.
But Miller says it is important for China to examine the mistakes Western countries made, and try to avoid them.
Miller says one example is the destruction of old buildings, which is a mistake Western countries once made but China is now repeating on a bigger scale, he says.
"I think one of the reasons is that old Chinese buildings are sometimes made of wood, which are easy to burn down, whereas old Western buildings were often made from stone, which are easier to survive.
"The other reason is the difference in how the West and China look at history. Westerners often want to see history as a physical thing, but Chinese sometimes see it as something in their heads. Chinese people generally are not sentimental about old buildings."
Encouragingly, Miller has noticed some Chinese developers being increasingly aware of the importance of heritage. He says one example is Xintiandi in Shanghai.
"It shows people that you can make money out of old buildings," he says.
Miller says that his decision to write China's Urban Billion originates from his passion for travel writing, which led him to visit many Chinese cities.
"Everywhere I visited, I thought 'what are their lives like'? I always wanted to write a book, so writing about urbanization was a useful way of doing that and a very useful way of looking into the development of China."
He says the other thing that prompted him to write the book was a desire to present the topic of urbanization to a Western audience.
Looking into the future, Miller says he envisages successful urbanization in China's context to be defined as a process without instability and immense inequality.
"So far China's urban population has grown peacefully. If they can keep on growing without massive instability in cities and without creating a huge urban underclass of people who don't have anything, China's urbanization would be successful."
Susanna Ma contributed to this story.
cecily.liu@chinadaily.com.cn
(China Daily 07/21/2013 page4)