The Eiffel Tower as musical instrument
Updated: 2013-06-16 07:41
By Maia de la Baume(The New York Times)
| | | | | | | | | |
| --- | --- | --- | --- | --- | --- | --- | --- | --- |
|   | | Print | | Mail | | Large Medium  Small | 分享按钮 | 0 |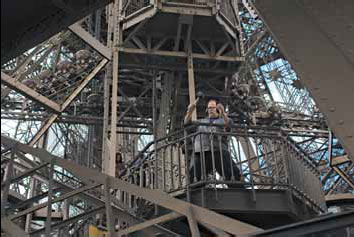 Joseph Bertolozzi gathered 400 sounds from the Eiffel Tower's structure. Corentin Fohlen for The New York Times
PARIS - The composer Joseph Bertolozzi, bearing a meditative look, stood with his feet apart in front of a door frame inside the Eiffel Tower. Then, 60 meters above the Champ de Mars garden, he pulled a latex mallet from his tool bag and hit the frame hard, and then softer, with agility and rhythm.
"That one was beautiful!" said Paul Kozel, a sound engineer, who recorded the dull thuds.
Mr. Bertolozzi, who lives in Beacon, New York, 100 kilometers north of New York City, was in Paris harvesting sounds for what he calls a "public art installation," a musical project that has taken him, Mr. Kozel and a team of seven to one of the most visited monuments in the world.
His mission was to "play the Eiffel Tower" by striking its surfaces, collecting sounds through a microphone and using them as samples for an hourlong composition called "Tower Music." He eventually hopes for a live, on-site performance of the work to celebrate the tower's 125th anniversary next year.
"I'm exhilarated to be here," Mr. Bertolozzi said, just before striking a wall with a sheepskin-padded log. Knowing no French and lacking contacts in Paris, Mr. Bertolozzi has spent more than four years raising $40,000 from donors and convincing Eiffel Tower officials that he was a legitimate musician.
"Improbable" yet "extraordinary," Jean-Bernard Bros, the president of the Eiffel Tower operating company, said of the project, which he called "exceptional because it is rare, it is unique." Mr. Bros, however, was noncommittal about allowing a live performance. "Let's see first what the sounds produce," he said.
As outlandish as Mr. Bertolozzi's project seems, it falls within a longstanding tradition of percussion works produced by found objects. One example is Magnus Lindberg's "Kraft," scored for orchestra and percussion "instruments" found in junkyards - like brake drums and wheel rims .
This is not the first large structure from which Mr. Bertolozzi has created a work. His "Bridge Music" consisted of sounds culled from the Franklin D. Roosevelt Mid-Hudson Bridge, near Beacon.
At the Eiffel Tower, he struck girders, spindles and handrails with drumsticks, wooden dowels, Lucite mallets and rubber hammers, some of which he had designed. On the second day of a two-week expedition, Mr. Bertolozzi and his team had already recorded about 400 sounds.
An organist who also collects gongs, Mr. Bertolozzi got the idea of playing on the Eiffel Tower after his wife mimicked him striking a gong one day nearly
a decade ago. "She 'banged' at the Eiffel Tower on a poster hanging on the wall of our bedroom," Mr. Bertolozzi said. "I thought, 'This would work.'"
At the time, the Eiffel Tower seemed far-fetched, so he turned his efforts to an instrument closer to home. "I knew Gustave Eiffel was a bridge builder, so I said, let me do something on a bridge here in America," Mr. Bertolozzi recalled.
The result, "Bridge Music," was released in 2009 and reached Number 18 on the Billboard classical crossover charts.
In preparation for his Parisian experiment, Mr. Bertolozzi studied the design of the Eiffel Tower. He listened to the works of French composers like Ravel and Poulenc, whose pieces have elements of cafe music and street sounds.
During his note gathering, some tourists seemed a little puzzled, but the tower's staff found Mr. Bertolozzi's approach coherent and unsurprising.
Stephane Roussin, the chief engineer of the tower, said the structure makes noises and vibrations. "It whispers," he said.
"We often bang on it," he said with a smile, "to make sure that the material isn't defective."
The New York Times
(China Daily 06/16/2013 page9)