Durban's unheralded delights
Updated: 2013-04-28 05:48
By Hilton Yip(China Daily)
| | | | | | | | | |
| --- | --- | --- | --- | --- | --- | --- | --- | --- |
|   | | Print | | Mail | | Large Medium  Small | 分享按钮 | 0 |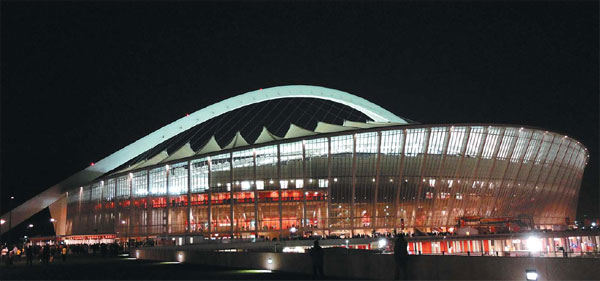 The impressive Moses Mabhida Stadium hosted seven games during the 2010 World Cup. Photos by Hilton Yip / for China Daily
South Africa's third largest city may not be as well known as other parts of the country, but as Hilton Yip reports, not only is it a vibrant, multicultural metropolis, it also boasts pristine beaches and great food.
In March, President Xi Jinping went to South Africa on his first official overseas tour. One of the main reasons for his visit was to attend the BRICS heads of states meeting in Durban, South Africa's third largest city and its busiest port. Durban has become well-known in recent years for hosting major international conferences such as the BRICS meeting and the 2011 UN Climate Change Conference. But unlike that other famous South African city, Cape Town, it's not renowned as an international travel destination.
However, for many South Africans, Durban is a favorite holiday destination. Not only is it a major port city, its sandy beaches and pleasant weather year-round give Durban a laidback vibe that is backed by it's unique historical heritage and multicultural character.
The first thing people notice about Durban is its coastal location on the Indian Ocean, which blesses the city with temperate, subtropical weather.
The city is framed by the Golden Mile, a long line of sandy beaches where Durban's residents often swim and surf in full view of hotels and office towers, somewhat similar to Miami or Sydney.
Alongside the Golden Mile is a promenade where you can buy souvenirs such as woodwork figurines and brightly painted handicrafts from vendors, watch musical performances, and visit an impressive marine theme park and aquarium.

If you want to gamble, there is a casino at the northern end of the Golden Mile, one of two local casinos.
You can even ride on brightly decorated rickshaws, but if you just want to take pictures, do be aware that they will want to charge you.
People from the Zulu ethnic group are the majority in Durban, as their homeland is the province which Durban is part of, KwaZulu-Natal.
South Africa's President Jacob Zuma is a Zulu and hails from this province.
Away from the beaches, Durban boasts other charms.
The city's CBD has an older feel, and there are several British-built structures that are highlighted by the majestic City Hall. Built in 1910, this large Edwardian neo-baroque building also houses a museum and art gallery, which you can visit for free.
Zuma is from KwaZulu-Natal and spent part of his childhood in Durban's suburbs. However Zuma is not the loftiest leader Durban has a link to.
At the turn of the 20th century, Mahatma Gandhi lived in South Africa, helping fight for the civil rights of black and Indian laborers.
In 1904, he established the Phoenix Settlement in Inanda, on the outskirts of Durban. Living with his family and followers, he developed his Satyagraha philosophy at the settlement.
Today the settlement serves as a community center and monument to Gandhi.
Ninety years later, Nelson Mandela cast his vote at the nearby Ohlange High School in the nation's first free election. Mandela did this as a sign of respect for John L. Dube, the school's founder and the first president of the ruling African National Congress, Mandela's and Zuma's party.
Dube and his wife are buried in the school's compound. This part of town is in a sprawling low-income settlement, a vivid reminder of the country's social inequality.
One of Durban's main landmarks is a much more recent addition.
The Moses Mabhida Stadium, one of the most magnificent of South Africa's 2010 football World Cup stadiums, was the venue for seven World Cup games.
From a distance, the gleaming white stadium resembles a surging whale. Its open top is bisected by a 106-meter-arch that looms spectacularly over the stadium, which visitors can ride to the top of, or even bungee jump off of, as long as there isn't a match being played.
Durban can look and feel like a mix of Africa, Europe, North America and more.
Visitors should try the city's most distinctive delicacy, bunny chow. Despite its name, there is no rabbit meat, but curried chicken or mutton combined with potatoes and stuffed into a hollowed-out quarter or half loaf of bread.
The dish comes from the city's Indian community, supposedly the largest outside India at almost a million people.
Their forefathers came from India to work, mostly as indentured laborers, in the province's sugar plantations during the 19th and 20th centuries. As such, there are many Indian restaurants. Indian snacks, such as samosas, are sold everywhere.
Downtown, the Indian heritage, unique to South Africa, can be seen with the Juma Masjid mosque, the largest mosque in the Southern Hemisphere, and the Victoria Street Market, where incense, Indian goods, and spices are sold in its many shops.
Travelers don't need to restrict themselves to Durban because the city is also a gateway to many attractions including the Drakensberg mountain range, Anglo-Zulu and Boer Wars battlefields, Zulu villages, and wildlife parks.
Durban is a must-see destination for any South African travel itinerary.
Contact the writer at sundayed@chinadaily.com.cn.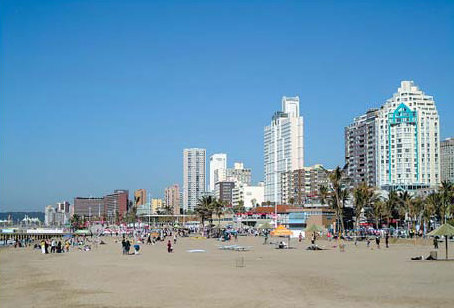 Durban is framed by the Golden Mile, a long line of sandy beaches where locals often swim and surf in full view of hotels and office towers.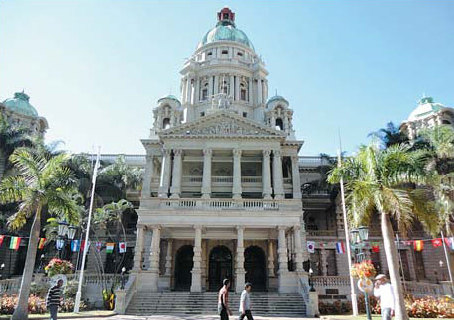 Durban City Hall, a majestic Edwardian building located in the city center, was built in 1910.
(China Daily 04/28/2013 page16)