Now Eddie Redmayne is the talk of the town
Updated: 2013-01-27 08:27
By Brooks Barnes(The New York Times)
| | | | | | | | | |
| --- | --- | --- | --- | --- | --- | --- | --- | --- |
|   | | Print | | Mail | | Large Medium  Small | 分享按钮 | 0 |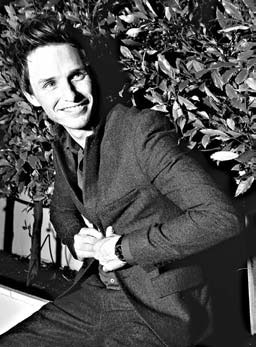 "At each point of my career, I think: 'It will never happen. It will never happen.' I've been scarred by getting my hopes up." Emily Berl for The New York Times

WEST HOLLYWOOD, California - The chatter about the film adaptation of "Les Miserables," starring Hugh Jackman and Anne Hathaway, has often included some version of this: "Hugh and Annie are great and everything, but, wow, that freckle-faced guy who plays Marius really jumps off the screen."
That freckle-faced guy is Eddie Redmayne, a 31-year-old who has modeled for Burberry.
Last month, Universal Studios publicists were flying him around the United States (and the globe) - Los Angeles to San Francisco, Chicago, New York, London, Los Angeles, New York and back to Los Angeles within a 17-day span - to walk the red carpet and speak at question- and-answer sessions.
"What was it like to ride on Hugh Jackman's biceps through that sewer scene?" one person wanted to know. (Answer: "My girlfriend, Hannah, asked me the same thing.") An audience member at a different session asked, "Can you sum up 'Les Miserables' in a haiku?" (Answer: "Points for creativity, but you realize it's based on a 1,900-page novel, right?")
The Hollywood Reporter had the British-born Mr. Redmayne as a "major threat" in the supporting actor race for an Academy Award. Mr. Redmayne did not get nominated, but there is no doubt that he is a hot property in Hollywood right now.
He won a Tony in 2010 for best featured actor in a play ("Red") and was seen skinny-dipping with Michelle Williams last Oscar season in "My Week With Marilyn." But it is his performance in "Les Miserables" that has brought this Cambridge-educated actor his first taste of real stardom and all of the perks and hassles that come along with it. That conveyor belt moves fast, and Mr. Redmayne, by his own admission, is running on it with Bambi legs.
For the photo shoot for this article, the "Les Miserables" machine hired a groomer to make sure his hair was messy in just the right way. The Sunset Tower luxury hotel here upgraded him to a two-floor suite, replete with a fireplace and private veranda. "I came into that room and my knees buckled," he said.
Scripts are pouring in; his name has been floated for roles in some of the biggest movies on the horizon, including the sequel to last year's "The Amazing Spider-Man" and next year's Marvel's "Guardians of the Galaxy."
British tabloid reporters are picking over his habits. The world now knows he is colorblind, prefers shower gel to soap, suffers from razor burn and wears Tom Ford Black Orchid cologne. He enjoys "tickling the ivories" on his baby grand piano in the "dead of night" when he has insomnia, according to a news source called Comtex.
Mr. Redmayne retains a wide-eyed, pinch-me-is-this-real demeanor. He does not employ an assistant. He wants to pay the check at dinner. The days he spent working at a pub "pulling pints" after college are still fresh in his mind.
"I'm a pessimist in life, or maybe a self-protectionist," Mr. Redmayne explained. "At each point of my career, I think: 'It will never happen. It will never happen.' I've been scarred by getting my hopes up."
His nomination was always a long shot, in part because supporting actor was an especially crowded field this year. Nominated instead were Alan Arkin, Robert De Niro, Philip Seymour Hoffman, Tommy Lee Jones and Christoph Waltz.
Mr. Redmayne won the role of Marius, the musical's romantic lead, by using his iPhone to make a video of himself singing the character's big solo, "Empty Chairs at Empty Tables." Via his talent agency, the rough video made its way to "Les Miserables" producers and Tom Hooper, the movie's director. Mr. Hooper had worked with Mr. Redmayne before on "Elizabeth I," a 2005 mini-series starring Helen Mirren, and - because of that experience - wasn't entirely convinced.
And Mr. Redmayne couldn't blame him. When auditioning for "Elizabeth I," he was asked by Mr. Hooper if he could ride a horse. He lied and said yes. "Two weeks later, I'm in Lithuania in spurs atop this massive black stallion," Mr. Redmayne said. "I'm meant to lead a charge. There are rain machines and Helen Mirren is standing there. Tom yelled 'Action!' Let's just say it didn't go very well."
This time, he promised Mr. Hooper that he wasn't lying. He could sing. Really. Trust me. Mr. Hooper's response: "The last time I took your word for something, Redmayne, you almost killed Helen Mirren."
Nobody doubts him now.
The New York Times
(China Daily 01/27/2013 page12)