Zou ready to earn a payday
Updated: 2012-12-09 08:14
By Pu Zhendong(China Daily)
| | | | | | | | | |
| --- | --- | --- | --- | --- | --- | --- | --- | --- |
|   | | Print | | Mail | | Large Medium  Small | 分享按钮 | 0 |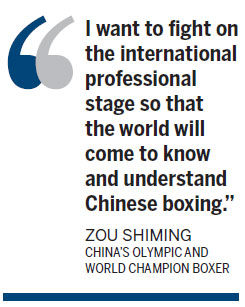 China's two-time Olympic boxing champion will turn pro next year, joining minimumweight champion Xiong Chaozhong in the hope of prolonging his career, writes Pu Zhendong.
Two-time Olympic boxing champion Zou Shiming is full of praise for Xiong Chaozhong, who recently claimed China's first professional boxing title, calling his fellow pugilist's victory "a positive development for boxing in China".
The 31-year-old Zou also said he is undergoing rigorous training on his way to turning pro, like Xiong, during a charity event at Qiannan Tianjiabing Middle School in Duyun, Guizhou province.
"I am working hard toward my goal of turning professional boxer as well," said Zou. "I don't think that day is far away."
The 2012 London Olympics postponed Zou's pro boxing dreams for four years. Zou thought about retiring from the national team as early as 2008, after he won China's first gold medal in boxing at the Beijing Olympics, but he chose to delay the move.
In August, battling injuries and age, Zou defended his title in London in the light flyweight class, becoming the first boxer to collect three medals at three consecutive Olympics. He took bronze in Athens in 2004.
Yet, just when Zou finally made up his mind to become a pro, Xiong stole his limelight on Nov 24 when the unheralded 30-year-old beat Mexico's Javier Martinez to capture the World Boxing Council's minimumweight title in Kunming, Yunnan province, to become China's first pro boxing champion.
However, Zou maintains his decision to delay turning pro was the right one.
"I don't regret my decision," Zou said. "Defending the Olympic title meant a lot to me and the country. Also, I've grown more mature over the past four years to prepare for pro fights now."
Zou said preparations for his pro career are going well.
He will reduce public appearances and start closed training soon and will hold a news conference to announce the start of his pro career before February.
"The first bout will be no later than May 2013," Zou said, adding he will likely miss the 2013 National Games in Shenyang, Liaoning province. "I will move to the United States for training soon after the 2013 Spring Festival."
In China, Olympic and world champions get the opportunity to work with their sport's governing body or start careers as a coach or an official.
Zou's decision means he has chosen a different path, at least for the next few years.
"We respect Zou's decision," said Chang Jianping, president of the Chinese Boxing Association. "Zou is the most influential and experienced boxer in China. I had hoped he would join the administration of this sport."
Xiong said he "worshipped" Zou in recent interviews and said he looked forward to training with him.
"Zou is a two-time Olympic champion. He made history for Chinese boxing. Of course I hope to practice with him if there's an opportunity."
Known as "the pirate fighter", Zou's counterattacking style includes elements of Chinese martial arts.
"I want to fight on the international professional stage so that the world will come to know and understand Chinese boxing," Zou said. "Also, I hope to promote in China the advanced theories I have learned overseas."
Boxing was the only sport at the London Olympics that had no professional competitors. After the Olympics, the International Boxing Association introduced a number of significant reforms. Among them was the opening of the door to professionals for the 2016 Rio de Janeiro Olympics.
"Professional bouts can guarantee a boxer's livelihood and therefore extend a career," Zou said. "I hope the IABA sees our efforts and changes its regulations."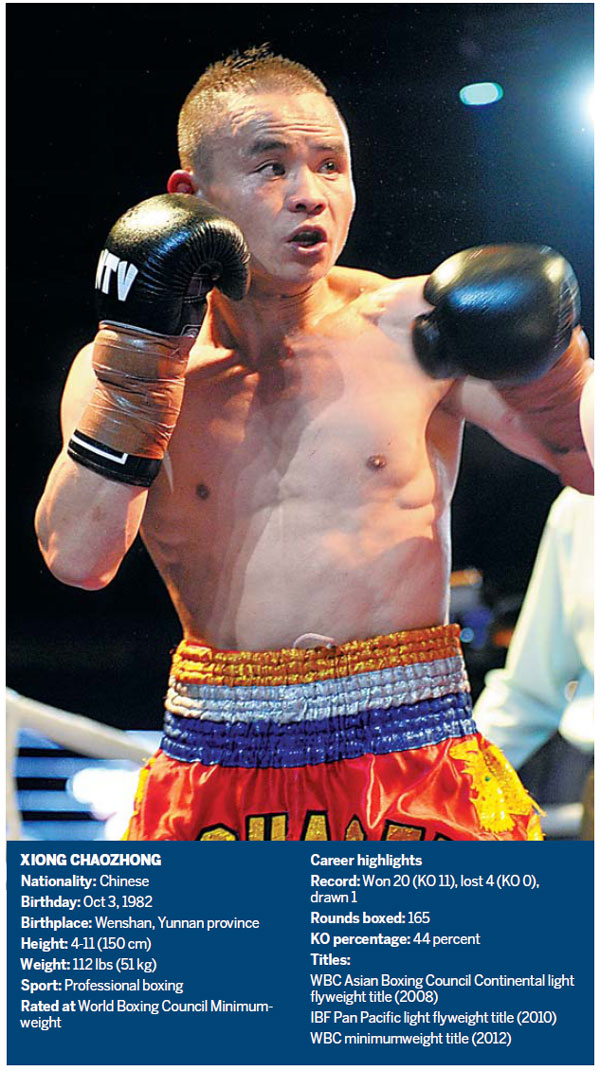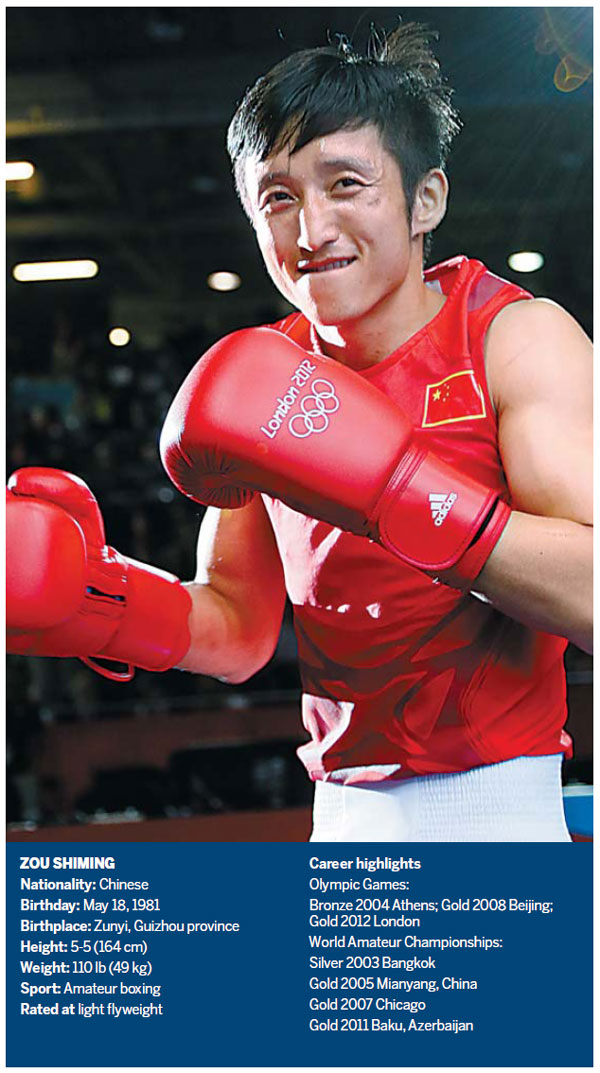 (China Daily 12/09/2012 page8)