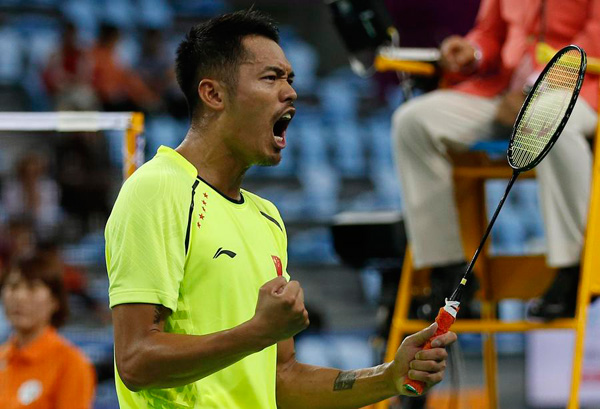 China's Lin Dan celebrates winning his game against South Korea's Lee Dong-keun in the men's team gold medal badminton match at the Gyeyang Gymnasium during the 17th Asian Games in Incheon, Sept 23, 2014. [Photo/Agencies]
INCHEON, South Korea - China fell to South Korea 2-3 in the Asiad badminton men's team final on Tuesday night, missing out on winning the title for the third time in a row, a day after the Chinese women successfully retained their crown for the fifth consecutive time.
World No 2 seed Chen Long lost to seventh-ranked Son Wan-ho of South Korea 5-21, 24-22, 14-21 to hand the host a 1-0 lead in the best-of-five series.
"Son played better than me," said Chen after the match ended. "He has been patient while keeping pressures on me. I was actually trying to play safe because of the strong tailwind over the court, obviously he was more adaptive to it."
The South Koreans would not easily let go their lead as their star doubles and world top pair Lee Yong-dae and Yoo Yeon-seong defeated Xu Chen and Zhang Nan, a newly formed pair, 23-21, 21-13.
Five-time champion Lin Dan, however, eased past Lee Dong-keun of South Korea in the third, critical match with his calm mood, delicate and deft stoke shots and powerful smashes, trying to help China come from behind.
"South Korea's current players are younger and are eager to deliver in front of home crowd, we faced great pressures in the first two matches," said Lin.
The fourth match went point for point amid thunderous cheers and applause from the spectators in Gyeyang Gymnasium before Chinese veterans Cai Yun/Fu Haifeng outclassed Kim Sa-rang/Kim Gi-jung of South Korea 19-21, 21-18, 21-16.
Nonetheless, Chinese rookie Gao Huan, who has little experience of taking part in international events, was unable to continue the momentum, as he lost to 34-year-old veteran Lee Hyunil, 10 years his senior, 14-21, 18-21 in two straight matches.
The bronze went to Malaysia and Chinese Taipei.