Soccer players can be straight-A students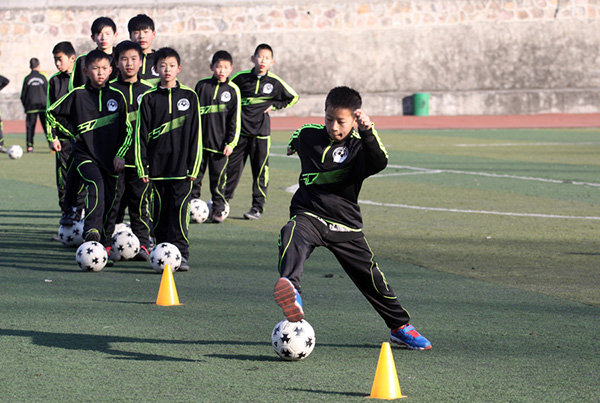 Young soccer players practice in Xiangyang, Central China's Hubei province on Jan 25, 2016. [Photo/VCG]
China is working towards its soccer dream by cultivating young talent at 6,000 medium and primary school soccer programs. The 2016-17 National Youth Soccer Winter Camp, held from Feb 4-11 in Southwest China's Yunnan province this year, reflected changes in students, parents, and education authorities, while raising concerns about the acceleration of merging soccer training and school education.
The ultimate goal of the country, according to an authority on both education and soccer, is to combine soccer talent with academic success.
Thanks to years of publicity, soccer training has been well accepted by parents and school masters. "My child has become more positive after playing soccer," said a parent accompanying her child to the winter camp. "He is more popular among fellow young girls, and the whole class will cheer for him during the game." The parent was pleased that playing soccer did not affect her son's academic performance, and believes the sport will benefit children even if they don't end up playing for a professional soccer club.
Deputy director of the National Youth Campus Soccer Experts Committee, Zhu Guanghu, visited more than 60 schools that offer soccer training, and found the children learnt more about teamwork, rules, and cooperation from the game.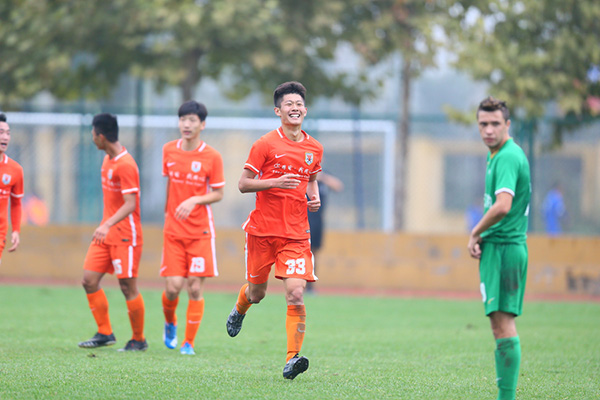 Shandong Luneng professional young players play against Xinjiang Football Association in Weifang, Central China's Shandong province on Oct 16, 2016. [Photo/VCG]
Chen Xudong is a soccer coach at Wansongyuan Primary School in Wuhan, Central China's Hubei province. He said that while the children at the winter camp were passionate about soccer, they were not as skillful as some of their peers in schools owned by professional clubs such as Shandong Luneng and Guangzhou Evergrande. As the former school of elite player Hao Junmin, the school now has seven soccer coaches, all of them holding qualification certificates.
The Wuhan city, as an integral part of the Vision China Championship, an amateur game organized by the Chinese Football Association, provides numerous competition chances to local schools on weekends. "But not all schools nationwide could have such opportunities," said a coach from Diqing, Southwest China's Yunnan province, who waited 18 years before earning a chance to lead his team to a real game.
Chen said the scarcity of competition and professional coaches contributed to the low performance of non-club young players. Salaries of school soccer coaches are far less than those who teach in professional soccer clubs, so the best coaches stay at the clubs. Students have to join professional clubs to pursue their soccer dreams, but their academic performance cannot be guaranteed at the club, creating a dilemma for students and parents who want to pursue on and off the field.
Experts have suggested that academic and sports achievements can be attained at the same time if schools can hire enough good coaches. Thus, kids interested in football do not need to quit school to continue his dream.
In fact, country officials have noticed this problem and are set to release documents to boost the integration of professional soccer training and common school sports activities, according to Wang Dengfeng, a sports education minister at the Ministry of Education and director of the National Youth Campus Soccer Work Group Office. "The Office has reached a consensus with CFA (China Football Association) on this promotion," the director added.
Although many elite soccer players struggle with the stereotype of being low academic achievers, the green field does not lack scholars or players with high academic achievements, such as Steven Gerrard, Academy coach at Liverpool, Giorgio Chiellini, Italian professional player and a Turin University graduate, and Juan Mata, Spanish midfielder with dual bachelor degrees. China is endeavoring to merge soccer training with academic education to fulfill its soccer dream, and aims to have more than 50,000 schools featuring soccer training by 2025.
Most Popular
Highlights
What's Hot