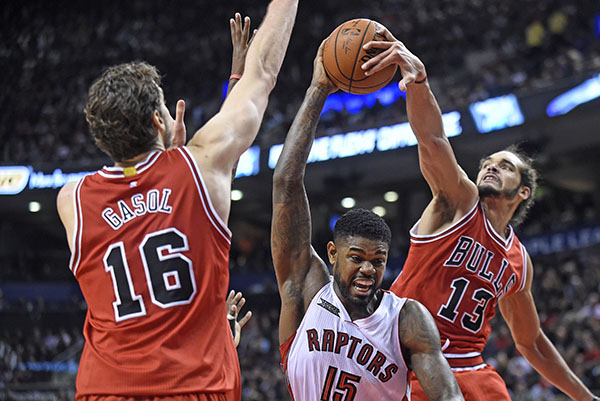 Chicago Bulls forward Pau Gasol (16) and center Joakim Noah (13) block Toronto Raptors forward Amir Johnson (15) during the third quarter at Air Canada Centre in Toronto, Nov 13, 2014. Chicago won 100 - 93. [Photo/Agencies, Peter Llewellyn-USA TODAY Sports]
TORONTO - Chicago Bulls forward Pau Gasol scored a season-best 27 points in a 100-93 victory over Toronto Raptors in NBA action on Thursday evening.
In front of a sold-out Air Canada Centre crowd, Gasol and the Bulls shut down Toronto's high-scoring offence that had entered the game with a league-best 107.0 points per game.
With the victory, Chicago improves to 5-0 on the road and 7-2 overall, tying Toronto for the best record in the Eastern Conference.
Bulls head coach Tom Thibodeau praised the efforts of Gasol in the game.
"He was terrific. He sets the tone for the team, plays both sides of the ball and plays unselfishly," Thibodeau said following the game. "He's great, every aspect of the game. He's been huge for us."
Along with the 27 points, Gasol also added 11 rebounds, his sixth in nine games.
The addition of Gasol in the offseason and return of 2011 Most Valuable Player Derek Rose from injury has provided Thibodeau with something he did not have last season: offence.
Last season, Chicago ranked last in the league in scoring with 93.7 points per game. Entering the game, Chicago ranked eighth with 104.0 points per game.
"Our team was a lot different last year," said Thibodeau. "It's coming. We're moving in the right direction. The challenge is that we got to play or four quarters."
Having only played nine games, the Bulls roster is still trying to find consistency to their offence before they can reach championship calibre.
"I think we have a lot of potential. A There's a great mix of guys; youth and veterans," Gasol said following the game. "The main thing is that the guys in this group is hungry, which is what I like a lot and one of the reasons that I came here."
Along with Gasol and Rose, the Bulls' roster comprises of reigning Defence Player of the Year Joakim Noah, veterans Kirk Hinrich and Mike Dunleavy, emerging players in Taj Gibson and Jimmy Butler, and rookies Doug McDermott and Nikola Mirotic.