After nearly eight years on the run, a suspect surnamed Jiang was finally arrested with the help of Nantong immigration officers as security is stepped up for the upcoming Youth Olympic Games in Nanjing, capital of Jiangsu province.
Jiang and other accomplices allegedly stole electric cables from a local communication network company in 2006.
On May 26, officials found Jiang matched the profile of a suspect at large posted on the online security system of Puyang police in Henan province.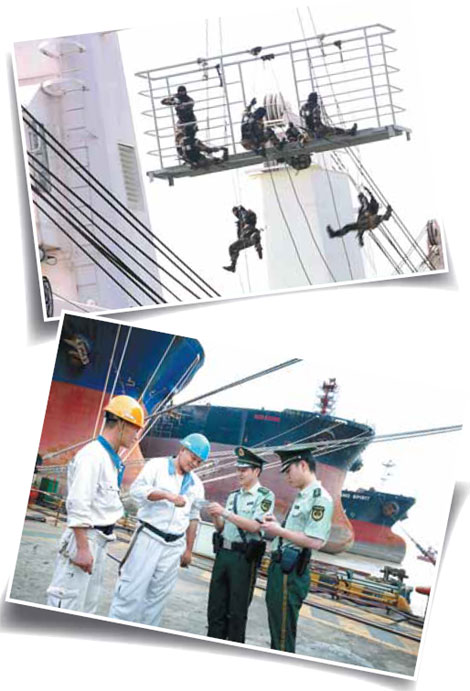 From top: An emergency drill at the Nantong Immigration Inspection Station. Officers check IDs at Nantong Port.
Jiang was working at Nantong Port when he was arrested.
He was the first fugitive listed online caught by the station during a special campaign in the run-up to the Youth Games that begin on Aug 16.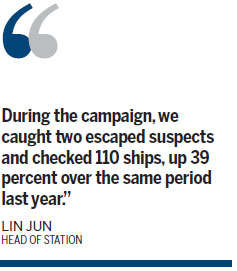 In addition to the strengthened examination of immigrants and shipments of cargo, the immigration station has also cooperated with local customs and the marine affairs department for joint enforcement that includes intelligence gathering, control of anchorage areas and publicizing laws and regulations to create a safer environment.
Enforcement officials now begin their daily patrols of the anchorage area at 6 am and have increased the frequency to prevent owners of cargo ships from making illegal trades with foreigners.
"During the campaign, we caught two escaped suspects and checked 110 ships, up 39 percent over the same period last year, and dealt with 18 violations of border inspection regulations, up 67 percent," said Lin Jun, head of the station.
Established in 1982, the station is in charge of the border inspection at 37 docks, 51 berths, two quarantine anchorages and two harbors along a 436-kilometer stretch of the Yangtze River.
Gu Chengpei contributed to this story
dingcongrong@chinadaily.com.cn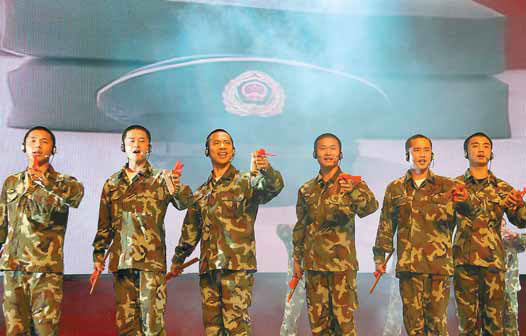 Officers at the station perform to welcome the Youth Olympic Games in Nanjing.
(China Daily 06/28/2014 page8)