CFA talks have collapsed, says Camacho
Jose Antonio Camacho, who was recently fired as coach of the Chinese men's national soccer team, announced on Friday that negotiations with the Chinese Football Association have collapsed and that he may appeal to FIFA and the Court of Arbitration for Sport.
CFA decided to end its contract with Camacho last month after a string of high-profile losses under his leadership, including a 5-1 defeat to Thailand.
"CFA informed Camacho on June 21 that they will end the contract with him and his coaching team … and CFA stated they will obey the contract items," said a statement by Camacho. "Our part made every attempts to negotiate with CFA, which failed to meet the commitment completely. We feel sorry for the breakdown of the negotiation and we will start to appeal to FIFA and CAS according to the contract."
The statement didn't detail the cause for or the specifics about the disagreement.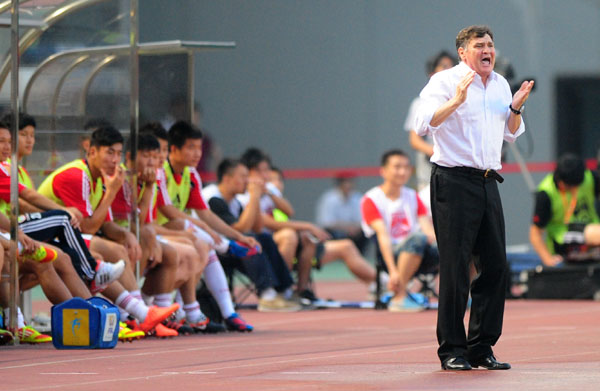 Camacho reacts during an international friendly match between China and Vietnam in Wuhan, June 8, 2012. [Photo/Xinhua]
What angered the general public was the three-year contract signed in August 2011 that states no termination term but an ambiguous request to "bring obvious changes to the national team, including a mature technique style and players' stable performance".
"No national team is willing to pay huge sums of salary without a proper termination term in the contract because there is no such thing as a free lunch," commented national newspaper Renmin Daily. "The Chinese soccer association will have to pay a price for this unfair contract!"
A commentary in Dongfang Sports Daily hit out at wastful spending on big fancy names to coach the national team instead of developing grassroot football.
"We will pay so much for letting the Spanish big name go. Is Chinese soccer so rich? perhaps the answer is 'yes' because the national team is sponsored by millionairs," wrote Ji Yuyang.
"But at the same time, Chinese soccer is so poor. Even with attention from relevant government departments, the budget for promoting campus soccer each year is put at merely 40 million yuan (about 6.5 million U.S. dollars)," he continued.
Chinese real estate tycoon Wang Jianlin and his Wanda Group subsidized in signing Camacho, the seventh foreigner coaching the Chinese team.
<<!-- iscomment为1标示该文章可以评论 -->