China announces to release national coach Camacho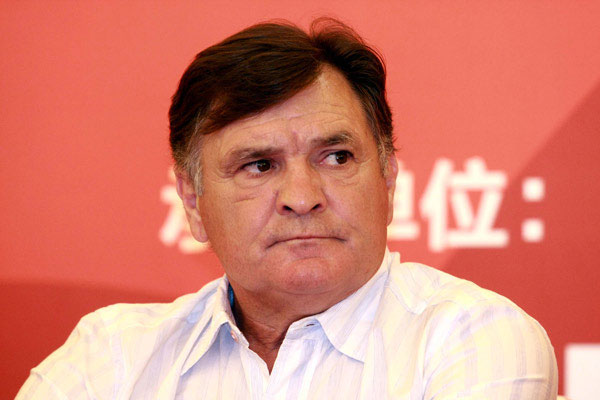 A file photo of China's national team coach Jose Antonio Camacho. China's soccer authority officially announced on Monday that they've decided to end the contract with national team coach Jose Antonio Camacho.[Photo by Liang Meng/Asianewsphoto]
BEIJING - China's soccer authority officially announced on Monday that they've decided to end the contract with national team coach Jose Antonio Camacho.
"Having consulted with related parties and informed coach Camacho, the authority made a primary decision of terminating the cooperation with the Spaniard," said a statement from the Chinese Football Association (CFA).
"Details are yet to be negotiated with Camacho," it added. "And the seeking for his successor has been initiated."
The press release came a week after the humiliating 5-1 loss of the country's national side to Thailand in a friendly, the latest in the Chinese soccer's gloom.
Fooball fans all around the country have called for the sacking of the 58-year-old former Spanish national coach.
Rumors have been around late last Friday that the CFA and Camacho had reached an agreement to part ways, saying the two sides were yet to settle on the severance package.
"After analyzing the whole performance of Camacho's squad in the last 22 months, the coaching committee reckoned the Spaniard's reign a failure," said the CFA.
The authority, however, admitted that Camacho is not the only one responsible for the 5-1 loss.
"All coaching staff are responsible for unreasonable training arrangement and team management," said the CFA. "Also we are very disappointed with the players' behavior during the 5-1 loss."
According to the deal between the CFA and Camacho, the sack could lead to a penalty pay of about 3 million euros.
Camacho, who agreed to step down in calm, was appointed in 2011 with a reported 2.8 million euros-per-year contract that should expire in August, 2014 till the Brazil World Cup.
Under Camacho, China claimed a 7-2-11 record out of 20 outings. In the latest FIFA rankings, the former Asian Cup runners-up were in the 95th position, slightly up from a historical low of 109th in last March.
The Chinese national soccer team's next tournament is the East Asian Cup, which sets on July 20, and will start their Asian Cup premilitary campaign in October and run through to March, 2014.