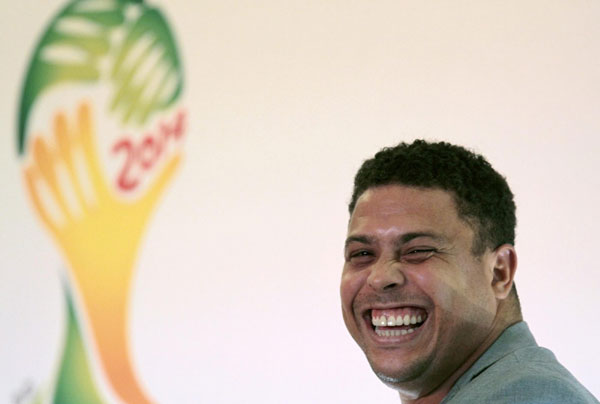 Former Brazil striker Ronaldo during a news conference in Rio de Janeiro December 1, 2011. Brazilian Soccer Confederation (CBF) President and President of the World Cup's local organizing committee Ricardo Texeira announced Ronaldo as an administrative member of the World Cup's local organizing committee.  [Photo/Agencies]
RIO DE JANEIRO - Former Brazil striker Ronaldo has accepted a leading role in organising the 2014 World Cup in his home country, he said on Thursday.
The 35-year-old former World Cup winner and World Player of the Year was invited to become a member of the local organising committee for the event, Ricardo Teixeira, the head of the country's football confederation, told reporters.
Ronaldo's role will put a globally recognised sportsman in the front line of World Cup preparations which have been dogged by delays and allegations of corruption against Teixeira.
"It is an honour for me, to face this challenge, to pass on optimism for the Brazilian public and show that we are proud to have this World Cup in Brazil," he told reporters.
"This is the ideal moment to bring together everyone who is involved in this process."
"This is not FIFA's World Cup, not the CBF's World Cup, not the government's World Cup, it belongs to the public and they have to be proud of this World Cup, they have to take part in the his World Cup.
"I want to do this for the public, the public deserves my contribution."