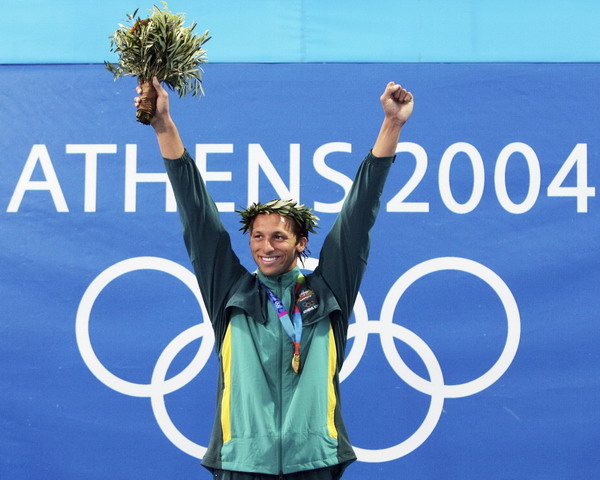 Australian gold medallist Ian Thorpe waves to spectators during an awards ceremony after the men's 200 metres freestyle final at the Athens Olympic Games, in this August 16, 2004 file photo. [Photo/Agencies]
CANBERRA - London Olympic chief Sebastian Coe is delighted that Ian Thorpe is aiming to swim at next year's Games and has claimed some of the credit for helping persuade the five-times gold medallist to end his retirement.
Related readings:


Thorpe finally under 100 kilos 


Swimmer Ian Thorpe 


Australian swimmer Thorpe yet to reveal coach 
Thorpe, Australia's most successful Olympian, announced his comeback in May after four years out of competitive swimming and is back in training in Switzerland.
"Ian Thorpe is arguably the greatest swimmer ever," the chairman of the London organising committee (LOCOG) told reporters at Australia's parliament on Wednesday.
"His abilities and skills have inspired a generation of young swimmers in London. Ian Thorpe competing in the Games in London is a fantastic prospect."
The 28-year-old Thorpe said when he announced his return that a visit to the London pool had helped inspire him to return to the water after missing out on the Beijing Olympics.
"I had the great pleasure of taking him around the Olympic park just a few months ago and into the aquatic centre," Coe recalled.
"We walked onto the floor of the swimming pool and I sensed then that he was sort of looking at the facilities and looking at the aquatic centre and thinking 'maybe this isn't one to sit out'."
Coe, a twice Olympic 1,500 metres athletics champion and former politician, said London organisers had been looking to incorporate successful elements of all previous Summer Games, including the much-lauded 2000 Sydney Olympics.
"Clearly I recognise from Sydney that it is the high water mark for a sporting event that other sporting events, no matter what sport or wherever in the world, is measured against," Coe added.
"From Sydney I want the party atmosphere that was driven by athlete-led performance in the venues, and that permeated the city and I think the whole country."