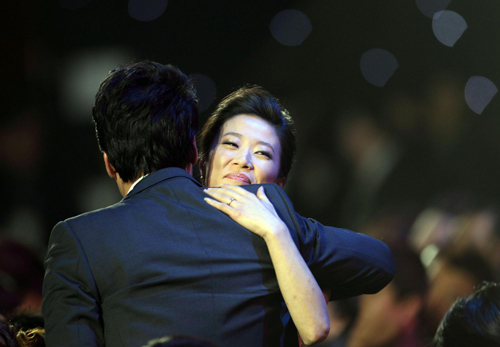 Figure skating stars Shen Xue (R) and Zhao Hongbo hug after they win the Best pair of the year during the 2010 CCTV sports personality awarding ceremony in Beijing, Jan 16, 2010. [Photo/Xinhua]
Figure skating champion of the Vancouver Winter Olympics Shen Xue/Zhao Hongbo became the repeat winner of the Best Pair award. The comeback star couple won China's first ever Olympic figure skating gold medal in Vancouver.
Li Yan, coach of Wang Meng, was named the Best Coach of the Year after leading the women figure skating team to manage the gold-sweep feat at the Vancouver Winter Olympics.
The honors also gave more attention to teams with breakthrough at big international sports events, seeing China's speed-skating team outweigh the dream teams of badminton and table tennis for the Best Team award.
The Rookie of the Year was awarded to 19-year-old swimmer Sun Yang, who grabbed two gold medals and two silver medals at the Guangzhou 2010 Asian Games. He bettered the Asian record in the men's 1,500m freestyle by more than 10 seconds, setting the world's best result of the year 2010.
The Best non-Olympic Athlete award went to Hou Yifan, the youngest female world chess champion in the history.
The 16-year-old Hou won the women's chess World Championship in Turkey in December and China's first chess gold at the Guangzhou Asiad.