BIRMINGHAM - World number one Lee Chong Wei from Malaysia overcame Japanese young sensation Kenichi Tago in straight games to clinch his first title at the All England Open Badminton Championships here on Sunday.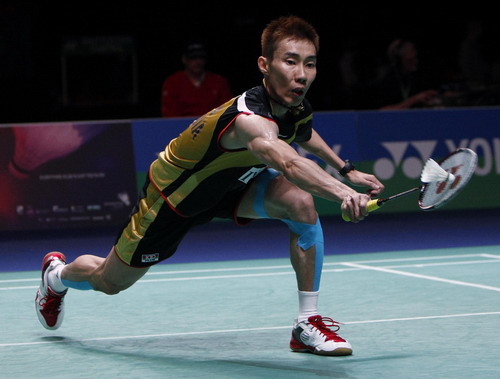 Malaysia's Lee Chong Wei returns the shuttlecock to Japan's Kenichi Tago during their men's singles final match at the All England Badminton Championships in Birmingham, central England, March 14, 2010. [Agencies] 
The top seed played a tough game against unseeded Tago, winning the final 21-19 and 21-19. The 27-year-old ace also became the first Malaysisan men's singles player to take victory at the prestigious competition since 2004.
"Tago performed very well and I fought really hard for the title," said Lee, who was defeated by China's top player Lin Dan in last year's final."But I managed to keep relaxed during the match and took advantage of my experience."
In the semifinals on Saturday, Tago came from one game down to beat China's sixth seed Bao Chunlai, becoming the first Japanese men's singles finalist at the All England Open Badminton Championships since 1967. Previously, the 20-year-old overcame seven-seeded Nguyen Tien Minh of Vietnam in the first round after he edged China's third seed Chen Jin in Friday's quarterfinals.
"It's unexpected that I didn't meet any Chinese player this time," said Lee. "It's hard to believe that Lin Dan lost the game and I didn't expect that Bao Chunlai was beaten. "
Olympic and three-time world champion Lin Dan, winning the event four times in past six years, suffered a quarterfinal exit as he lost to teammate Bao in three games.
In the women's singles final, Danish veteran Tine Rasmussen made revenge by thrashing China's world number one Wang Yihan 21-14, 18-21 and 21-19.
Wang, 22, edged Rasmussen in last year's final but failed to repeat her achievement this time.
"Sometimes I set the bar too high for myself and I felt that's why I made several mistakes, " said Wang. "If I got fewer mistakes I wouldn't have given my rival so many chances."
An excited Rasmussen, who clinched the title two years ago, said, "its' amazing to be on top of the tournament again. I was quite nervous at the end, but when I looked at her, I knew she was feeling the same."
Rasmussen's teammates Lars Paaske/Jonas Rasmussen and Mathias Boe/Carsten Mogensen played a tough battle in the men's doubles final which finished with Paaske and Rasmussen's victory in 21-23, 21-19, 26-24.
China's Zhao Yunlei paired up with teenager Zhang Nan to depress Olympic runners-up Nova Widianto/Liliyana Natsir from Indonesia in the mixed doubles final in 21-18, 23-25 and 21-18. Zhao also took a silver in the women's doubles as she and partner Cheng Shu lost to teammates and Olympic champions Du Jing and Yu Yang 22-20, 16-21, 13-21.