Golf is on the verge of a boom period with more courses, financial support and events for amateurs planned after the game was reintroduced as an Olympic sport last year.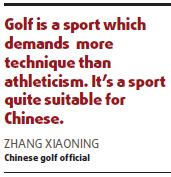 After the International Olympic Committee's (IOC) announcement last October, the sport's governing body in China vowed to develop the "game for the rich" and show the world's most populous nation is determined to produce top international golfers in the near future.
"Golf is a sport which demands more technique than athleticism. It's a sport quite suitable for Chinese," said Zhang Xiaoning, secretary general of the Chinese Golf Association (CGA). "I'm sure as long as it is developed under the state-support system it will produce some of the world's best athletes - like we do in table tennis and badminton."
Related readings:


 Golf remains exclusive to wealthy in China


 DHL: sponsoring golf in China with quality service


 China to drive golf forward to Rio 2016


 Golf China still in the money


Developing a legacy in China golf
Zhang is aware of the lack of golf courses to meet growing demand and said one of his priorities was to call on the government to establish public courses - some free of charge, if possible.
"At present, among the 30,000 golf courses in the world, America has 20,000 and Japan has 2,000. But China has only 500," Zhang said.
"We need more courses, especially for the public.
"When people can just walk a little distance to play golf, more and more good players will emerge."
Han Liebao, director of the Golf Education and Research Department at the Beijing Forestry University, said the appropriate number of golf courses for Beijing should be about 370, based on an assumption that every middle-class Beijinger would play one round per week.
"There are about 60 golf courses in Beijing and that number will hit 100 in two to three years," Han said.
"Almost all of the golf courses (in Beijing) are run by private owners and few of them receive support from the government," he said.
Han believes it is necessary to move golf's image away from being perceived as a sport for the rich. "The government needs to build public golf courses to achieve this," he said.
A chief official at the State General Administration of Sport (SGAS) also called for a decrease on the tax paid by clubs to allow more people to take part in the sport
"Golf is widely seen as game for entertainment and thus the business tax rate is 22 per cent for golf clubs," said Cui Dalin, deputy director of the SGAS. "Adding the land-use tax, a golf club has to pay almost a 30 percent tax rate and therefore most clubs have high fees in order to make ends meet. That will not boost golf's popularity here."
Tour for future stars
The effort to develop golf in the wake of the sport's inclusion as an Olympic event from Rio 2016 will also focus on the grassroots level.
The China Amateur Golf Futures Tour (GFT) was established last year and should provide hundreds of promising junior players with the opportunity to play at a competitive level.
"There were few tournaments for amateurs of my age in China before GFT," said Li Haotong, 14, who won the GFT Zhuhai stage last month.
"Now, I have the chance to play more golf with players at a similar age and level."
The GFT is expected to become a major part of the CGA's efforts to improve the game and will serve as a significant platform for players to advance to the national amateur and pro levels.
Although China hosts elite tournaments like the Volvo China Open, the World Cup and the HSBC Championship, Zhang said the country did not just want to showcase eye-catching events.
"We do not want to stand aside and see them (the world's top players) play," said Zhang. "We want to have our own tours and our own stars."
Apart from increasing its investment in amateur golf, the CGA, along with the South Korean and Australian PGAs, launched the OneAsia Tour late last year to give the sport a regional shot in the arm.
Golf in state-support system
Therefore, the world might not be surprised if a Chinese golfer stands on the podium at the Olympic Games from 2016.
"There is unbalanced development between Olympic sports and non-Olympic sports in China. Golf had been restricted to a small group of people," said Zhang. "Things will change now as history tells us China is able to lift an Olympic sport from nowhere to the world's top level once it is included in the state-support system."
Zhang's expectations received a major boost when the Reignwood Group announced it would donate 100 million yuan ($14.6 million) to set up a foundation for China's golf development.
Jiang Xiaoyu, former executive vice-president of the Beijing Organizing Committee for the Games of the XXIX Olympiad, echoed Zhang's sentiments and believes China will make big strides on the golf stage in the not-too-distant future.
"I believe as long as we can get enough support, China will at least win a medal at the 2020 Olympic Games."