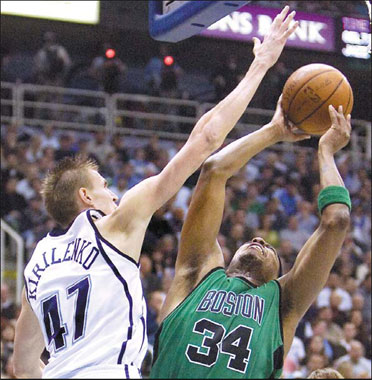 Utah Jazz forward Andrei Kirilenko (47) of Russia goes up to block Boston Celtics guard Paul Pierce (34) during their NBA game on Thursday in Salt Lake City. [Agencies]
LOS ANGELES: Forward Matt Harpring delivered a go-ahead jump shot with one minute left to help the Utah Jazz complete a fourth-quarter comeback and defeat the Boston Celtics 90-85 on Thursday.
The 15-footer gave Utah an 87-85 lead and Deron Williams followed up with two of his 18 points for Jazz after Celtics lost Kevin Garnett in the second quarter due to a strained right knee.
Boston's all-star forward left the court before halftime trying not to put much weight on his right leg, and did not return.
Although the injury is not expected to be serious, the Celtics did not want to take any chance.
"I'm not taking a risk by putting him out there on the floor. It's a long season," Celtics coach Doc Rivers told reporters. "I know it's his knee, I didn't really ask him about it.
"I thought we played our butts off and had many opportunities tonight."
Paul Pierce scored 20 points but made just seven of 19 shots for Boston, who held a 71-64 lead with 9:42 to go.
The Jazz used a 12-5 run to tie the contest at 76-76 with 5:43 left.
Mehmet Okur scored a team-high 19 points for Utah and Harpring had four of his eight points in the final quarter while playing tough defense on Pierce down the stretch.
It was the third win in a row for the Jazz, who also defeated the Los Angeles Lakers 113-109 last week.
"(This is) our second statement win," Williams said. "Both wins have been huge for our confidence. We can be really dangerous. We had high hopes this season but we've been injured.
"If we get healthy and rolling, look out."
Utah (32-23), currently in the eighth and final playoff spot in the Western Conference, are expecting the near return of power forward Carlos Boozer, out since Nov. 19 due to a knee injury.
In the NBA's only other action, the San Antonio Spurs scored an 83-79 road win over the Detroit Pistons behind 19 points from Tony Parker and 18 from Tim Duncan.