YARM - David Beckham was recalled to England's national team Friday for what could be Steve McClaren's last games as coach.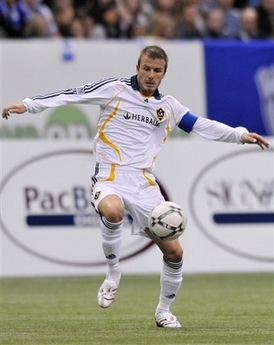 LA Galaxy's David Beckham (23) tries to control the ball during the first half of the friendly soccer match against the Vancouver Whitecaps at BC Place in Vancouver Wednesday, Nov. 7, 2007. [Agencies] 
The Los Angeles Galaxy midfielder sprained his right knee in August and missed England's 3-0 victories against Israel and Russia at Wembley in September.
"He's an important player for England. He always has been over the years," McClaren said. "I think he proved in his comeback in the summer against Brazil and Estonia he was one of our best players and unfortunately he got injured."
The former England captain also was out for England's 2-1 defeat in Russia last month, which leaves qualification for the 2008 European Championship out of McClaren's hands.
Beckham is now back for next Friday's friendly against Austria and the potentially decisive Nov. 21 Euro qualifier against Croatia, which could be meaningless unless Israel beats Russia five days earlier.
Just 15 months into the job, McClaren's prospects of staying on will be bleak if England fails to reach its first major tournament since the 1994 World Cup.
Before the pivotal Israel-Russia game, England plays a friendly in Austria next Friday, when Beckham will be hoping to add to his 97 caps.
McClaren made a trip to Los Angeles last weekend to judge the fitness of Beckham, whom he initially dropped after taking over as coach in August 2006.
"The injury is fine, the fitness is fine," McClaren said. "He hasn't played games, but he is included in the squad because I believe with the likes of Rio Ferdinand and John Terry out of the squad we're lacking experience and big game players.
"David Beckham is one of them."
McClaren's assistant, Terry Venables, warned the Football Association on Friday not to rush into a "knee-jerk reaction" if England failed to advance to next year's tournament in Switzerland and Austria.
"They must make sure they come to a decision for the right reasons, not just because it seems right at one particular moment," said Venables, who coached England to the Euro 96 semifinals. "We are not thinking about our futures."