LOS ANGELES - NBA commissioner David Stern is delighted with the buzz that Yi Jianlian is creating in his homeland.
Milwaukee Bucks teammate Andrew Bogut is more concerned with helping the Chinese teenager settle into his new home.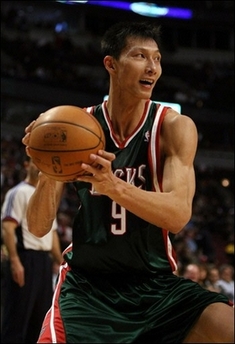 Yi Jianlian of the Milwaukee Bucks looks to pass during a pre-season game against the Chicago Bulls at the United Center 25 October 2007 in Chicago, Illinois. National Basketball Association commissioner David Stern is delighted with the buzz that Yi is creating in his homeland. [Agencies]
Yi will be in Milwaukee's starting lineup when the Bucks open the NBA season in Orlando, according to coach Larry Krystkowiak.
Yi Jianlian shoots over Minnesota Timberwolves Chris Richards during a preseason game last Friday. AP Bogut, an Australian who was the top overall selection in the 2005 draft, knows what it's like to play in the NBA as a foreigner carrying the expectations of a nation.
"I'm not a veteran by any means, but I've been here long enough to know that you've got to be different as an international player," said Bogut, who played two years of US college basketball before becoming the first Australian ever selected No 1 overall.
"I think international players take it a bit harder when they get to the league. You've just got to figure out you've got 82 games, forget about the last game and look to the next game. I think he will be all right once he meets some people."
Yi and Bogut will be in Milwaukee's starting lineup when the Bucks open the season in Orlando on Wednesday.
Also getting a starting nod is veteran forward Desmond Mason, who signed as a free agent in the offseason to rejoin his former team, with guards Mo Williams and Michael Redd.
Melbourne's Bogut said he thought the Bucks made a savvy decision in selecting Yi sixth overall in June.
"I think he has a chance to be very, very good," Bogut said. "I've played against him a couple of times and he's just very quick and mobile for a big guy. It's going to take time to adjust. I think it was a great pick."
Some in Yi's camp were unhappy at the prospect of having him play in Milwaukee. They worried that he wouldn't see enough playing time, and also cited the Wisconsin city's lack of a large Asian community.
The 7-foot (2.13m) 20-year-old star for China's Guangdong Tigers finally signed a multi-year contract on August 29, which will pay him $2.3 million in his debut season according to rookie salary regulations.
Bogut said he believes Yi will come to like Milwaukee, as he has.
"I have a house, nice property," Bogut said. "I can actually go outside and have a coffee for once, instead of sitting on a balcony 26 floors up (in the city). I'm really happy in Milwaukee. The winters are cold but it's really peaceful and I like it."
Yi seemed pleased upon his arrival earlier this month.
"It's a beautiful city . . . nice downtown," he said. "You've got lake. You've got river. It seems comfortable here."
The Bucks, and Bucks-watchers, seemed pleased as Yi began practicing with his new team, with local basketball writers using phrases such as "silky" and "gazelle-like" to describe the new recruit's graceful athleticism.
While his teammates are welcoming, they indicated during training camp that a culture gap wouldn't make Yi immune to the usual rookie initiation rites.
"I think that's the one part he'll have to get adjusted to," Mason said, flashing a devious smile. "Carrying other people's bags and shoes and getting doughnuts.
"We might have him sing a little bit. You do rookies like that because you had to do it as a rookie but at the end of the day, you look out for him, too."
While the Bucks and their Milwaukee fans were getting excited about Yi's arrival, Stern was looking with an approving eye on the excitement he was generating back home in China.
He said CCTV-5, the Chinese sports network, was already anticipating coverage of Yi and the Bucks' home game against compatriot Yao Ming's Houston on February 2, coinciding with Chinese New Year celebrations.
"From the NBA's perspective, having another bona fide Chinese superstar-in-waiting - he's coming here with less exposure and less experience than Yao, but there are very high hopes for him in his homeland," Stern said.