BEIJING -- Justine Henin, ranked 1st in the world, withdrew from China Open Wednesday due to respiratory infection. The organization committee of China Open received the confirmation from WTA Wednesday morning.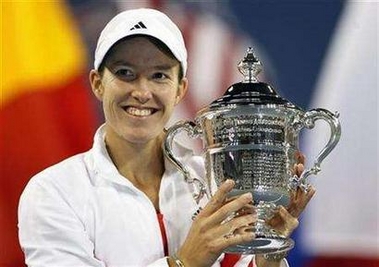 Justine Henin of Belgium poses with the trophy after defeating Svetlana Kuznetsova of Russia in the women's final of the U.S. Open tennis tournament in Flushing Meadows, New York, September 8, 2007. Henin has pulled out of next week's China Open because of a respiratory infection, organizers said on Wednesday. [Reuters]
Ken Meyerson, Henin's agent, said Wednesday: "Justine went to the doctor in Brussels about her reoccurring respiratory asthma. The doctor told her to take 3 weeks off."
"Justine had asked me to negotiate a flight back for her sparring partner and for an extra hotel room that she certainly gave me every indication that not only was she going to play, she was enthusiastic to participate, especially with the Olympics in 2008," he added.
Meyerson also disclosed that Henin may not attend the games in Stuttgart according to her health condition.
The organization committee of China Open announced Wednesday that they has received the confirmation from Amelie Mauresmo and Elena Demendieva. The committee also disclosed that Jelena Jankovic may participate China Open with a wild card.