KUALA LUMPUR -- China failed to reach the knock-out stage after suffering a humiliating 3-0 defeat to Uzbekistan at the Asian Cup on Wednesday.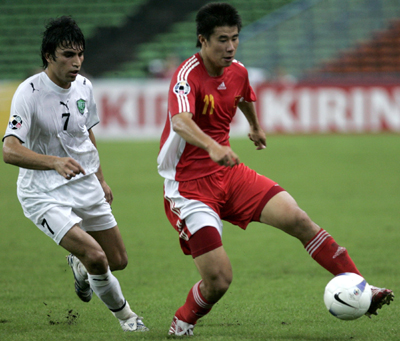 Uzbekistan's Aziz Haydarov (L) challenges China's Dong Fangzhuo during their 2007 AFC Asian Cup Group C soccer match in Shah Alam outside Kuala Lumpur July 18, 2007. [Reuters]
China needed a tie to qualify from Group C while Uzbekistan had to win to enter the knock-out stage. This was the first time in 27 years China had failed to qualify from Asian Cup group stage.
The two sides played a balanced game in the first half though Uzbekistan created more opportunities.
Uzbekistan broke the deadlock in the 72th minute when foward Maksim Shatskikh blasted the ball into the net from close range.
Midfielder Timur Kapadze doubled the lead in the 87th minute when he shot the ball home.
Aleksandr Geynrikh sealed the victory for Uzbekistan when he scored in the injury time through a free kick.
Uzbekistan, who trailed Iran to stand the second in Group C, will play against Saudi Arabia in the quarter-finals.