NEW YORK - Greg Oden, a 7ft center from Ohio State, was made the first overall pick of the 2007 NBA Draft on Thursday by the Portland Trail Blazers.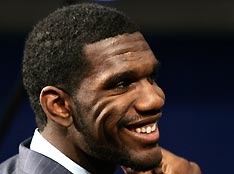 Greg Oden

Oden, the Big 10 Defensive Player of the Year for the NCAA Tournament runner-up Ohio State Buckeyes, led the team in scoring (15.7 points per game), rebounding (9.6 per game) and blocked shots.

Following Oden, as expected, was high-scoring forward Kevin Durant of Texas, who went to the Seattle SuperSonics with the second pick of the draft.

The Atlanta Hawks made Al Horford, a forward for the twice national collegiate champions Florida, the third choice.

Michael Conley, Jr., the point guard from Ohio State, was made the fourth pick of the draft by the Memphis Grizzlies. Conley is Oden's boyhood friend and the son of the former world record holder in the triple jump, Michael Conley, Sr.

The Boston Celtics followed by taking Georgetown forward Jeff Green, who NBA insiders reported was being sent to the Seattle SuperSonics along with other considerations in exchange for shooting guard Ray Allen.

China's athletic power forward Yi Jianlian was taken with the sixth pick of the first round by the Milwaukee Bucks.

The NBA Draft is the primary way talent comes into the NBA with 30 players taken in each of two rounds that will be conducted on Thursday at Madison Square Garden.