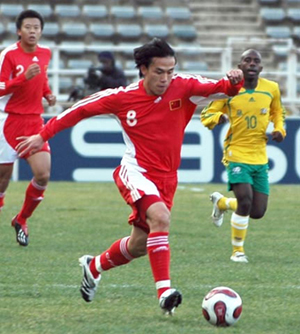 Chinese soccer player Zhang Xiaobin plays in the match against South Africa on Wednesday, June 27, 2007. [Xinhua]

The Chinese Olympic soccer team drew with the hosts South Africa 0-0 in their first match in the eight-nation tournament in South Africa on Wednesday.
Chongqing Morning Post reported that as the champions in the tournament last year, the Chinese team naturally hoped to take the title again. China defeated South Africa 3-1 in the final to take the title of last tournament.
China dominated the match with a clear advantage in talent. However, they were not lucky enough to shoot a single goal throughout the match. Even a promising header hit the post.
The South African strikers did not give any threats to Chinese goalkeeper.
After the match, the Olympic team will meet Botswana on Friday and Cameroon on Sunday in four-team group A.