MADRID, June 14 - David Beckham said on Thursday that Real Madrid's failure to make him a contract renewal offer was behind his decision to leave the nine-times European champions and sign for MLS side LA Galaxy.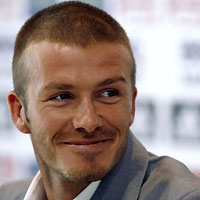 David Beckham smiles during his news conference at the club's grounds in Valdebebas, outside Madrid, June 14, 2007. [Reuters]


"I first realised I would be leaving Real Madrid six months ago in January when I was told my contract wouldn't be renewed," the 32-year-old former England captain told a news conference before his final game for the Primera Liga club on Sunday.

"That was the time when I knew I had to decide my future. Leaving a club like Real Madrid is very difficult but I think my future is bright and it's something I'm really looking forward to now."

Real have said they were in the process of offering Beckham a new contract when he decided to sign his $250 million deal with Galaxy, but the former Manchester United midfielder said the offer had never materialised.

Beckham also said that, contrary to club president Ramon Calderon's recent statements, he had not been approached by Real to persuade him to stay and denied there was an escape clause by which he could back out of the Galaxy deal.

"I've had no contact with the president about anything," he said. "The contract was signed a few months back, everyone knows when I signed it. My last game will be on Sunday."

"There is no clause with Los Angeles saying it could be changed. I've played for Real Madrid for four years. It has been an incredible time. Hopefully, it will end with winning the league. But this is it."

A somewhat nervous-looking and red faced Beckham, who will win his first title with Real if they beat Real Mallorca at the Bernabeu on Sunday, refrained from direct criticism of the club.

But he made it clear he believed that his lack of games in the first part of the season and the decision to ostracise him after the announcement of his departure to LA were based on club politics rather than his performances on the pitch.

| | | |
| --- | --- | --- |
| 1 | 2 | |