ROME - A day after setting a record for most victories on one surface, Rafael Nadal became the only player to win the Rome Masters three consecutive times.
Nadal beat Fernando Gonzalez of Chile 6-2, 6-2 in the title match Sunday. But before reaching the final, the No. 2-ranked Spaniard had to overcome a dizzy spell and an apparent stomach problem that forced him to go to the hospital. He also spent nearly four hours on the court against Nikolay Davydenko in the semifinals.
"I think I'm in the best moment of my career, playing better than ever, so I'm very happy for that," he said.
This was Nadal's fourth ATP title of the year. He also won in Indian Wells, Calif.; Monte Carlo, Monaco; and Barcelona, Spain. He has a 21-3 career record in finals.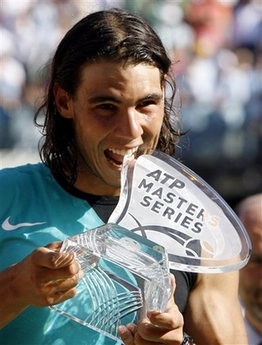 Rafael Nadal, of Spain, bites the ATP throphy after winning the Rome Masters tennis tournament in Rome's Foro Italico clay-court, Sunday, May 13, 2007. Nadal beat Chile's Fernando Gonzalez 6-2, 6-2.[AP]
Rome is a key clay-court warmup for the French Open, which begins May 27. Thomas Muster and Jaroslav Drobny — a Czech player in the 1950s — also won in Rome three times, but not in succession.
The last time Nadal lost on clay was to Igor Andreev in the quarterfinals in Valencia, Spain, in April 2005. Sunday's victory extended his winning streak on clay to 77 matches. By reaching the final, the 20-year-old Spaniard broke John McEnroe's record for most victories on one surface.
"This guy is unbelievable on this surface," McEnroe said shortly before the final. "He's like the (Bjorn) Borg of this era."
Going into the final, the No. 6-ranked Gonzalez held a 3-1 lifetime edge over Nadal, including a win in the Australian Open quarterfinals in January.
But Nadal took control with a break in the opening game and never relinquished his grip. Down one set and two breaks, Gonzalez managed to get one break back, but Nadal kept the lead and finished off his opponent with a forehand winner.
"To win here for a third time is like a dream," Nadal said. "I've had the good fortune of coming here for three years and winning for three years. ... It's an incredible sensation."
By the end of the match, Gonzalez had 31 unforced errors, including 18 with what is usually his more effective shot, a powerful forehand. Nadal, who combined solid ground strokes with uncharacteristic approaches to the net, had 14.
"When you go to the court in a final you don't think about a win 6-2, 6-2," Nadal said. "If Gonzalez takes control of a lot of points it's very difficult ... so I try to return the ball and be more aggressive."
"Fernando made way more errors than usual and I took advantage of it," Nadal added.
For Gonzalez, there was no mystery surrounding the loss.
"I think the reason was him," the 26-year-old Chilean said. "I tried to attack him all the time, tried to play very close to the baseline, tried to make my own opportunities and go to the net. But I couldn't do it."
"Sometimes he makes you play where you don't want to play," Gonzalez added. "It's tough because he's in good shape and he can be hours playing there."