BEIJING - China's newly crowned world figure skating duo Shen Xue and Zhao Hongbo have announced wedding plans, said China's Youth Daily Friday.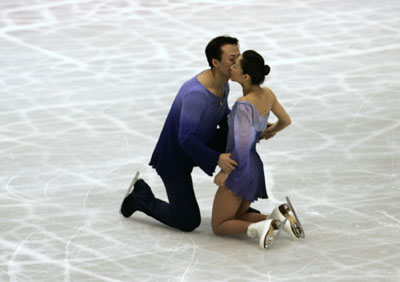 China's Shen Xue (R) and Zhao Hongbo perform to win the pairs free program of the World Figure Skating Championships in Tokyo March 21, 2007. [Reuters]


Zhao proposed to his long-time partner after they won the pairs title at the world championships in Tokyo on Wednesday, and they planned to get married in 2008, according to the report.

"Everything goes perfect," Zhao was quoted by the paper as saying, "So I chose that moment to propose."
The announcement ended years of speculation about China's most romantic sporting couple, whose chemistry on and off the ice has fascinated Chinese fans.
"We never really knew what was going on between them," said the paper. "We might have guessed but they never told us before."
Shen, 28, and Zhao, 33, have been partners for 14 years, winning three world titles, collecting two Olympic bronze medals, and numerous Grand Slams titles.
The pair had earlier announced plans to retire at the end of the season when the Champions concludes. "The intensive training in the national team is too much for us, so we have decided take a leave from the team for a while for a rest," said Shen Xue.